By: Philippe Matthews
Sonja Red Umbrella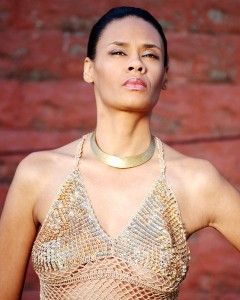 Where are you from?
I am from Chicago, Illinois.
Do you come from a big family?
No, I do not come from a big family. I am an only child.
What was childhood like for you growing up in Chicago?
I was a very sheltered child growing up in Chicago. My mother, but especially my grandmother were very overprotective.
Why did you get into modeling?
I got into modeling, because my mother would put me in fashion shows at church. She would crochet outfits for me and have me model them. From there, grew a thirst and hunger for modeling.
When did you start modeling?
I think I started modeling as a novice in church fashion shows at around 4, 5, or 6.
What are your measurements?
My measurements are: 34C-26-35.
What would you say is your best body feature?
I would say that my best body features are my legs and breasts.
What would you say is your best facial feature?
I would say my best facial features are my eyes and lips.
What advice would you give other models wanting to get into the business?
The advice I would give other models wanting to get into modeling is do your research on photographers and modeling agencies. There are a lot of scam artists. Be patient. "What GOD has for you is for you and no one can take it away." Be persistent. If you have a thirst and hunger for modeling and you put in great effort, it will pay off in the end. Never give it. Keep trying. "Nothing beats a failure , but a try.". Pray, pray, pray. Have faith. Believe in yourself.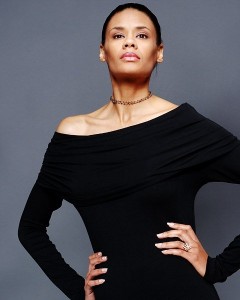 What have been your biggest achievement in life?
My biggest achievements have been obtaining my B.A in Speech and M.A. in English both from Chicago State University.
What has been your greatest trial or tribulation that you have overcome?
My greatest trials and tribulations that I had to overcome were that in February, 2006, I became paralyzed. About three and a half months later, I was able to walk and I returned to work and driving.
In December, 2006, I became paralyzed again. This time my vision and speech were impaired.
I was diagnosed with a rare disease called, Neuro Myelitis Optica (NMO), an auto immune disease, which is likened unto Multiple Sclerosis.
I am walking again, however I still have some deficits.
I do not claim the disease, because of my Christian background.
Other than Jesus Christ, who supported you throughout your disease?
I had very little support during the first few years of my condition, because at the time I was in a very tumultuous relationship.
Tell me more about your evangelism.
I mostly evangelize as the LORD leads me. For example, I have great compassion for people who are in a wheelchair, because I was in a wheelchair twice. The LORD will have me walk up to someone who is in a wheelchair and give my testimony of how I was paralyzed twice and that GOD healed me from paralysis and he/she can be healed, too. Then, I would talk to them about salvation.
Who inspires you and why?
I am inspired by JESUS, because HE died on the cross for you and me, Vanessa Williams, because she is the epitome of beauty and grace, and Denise Matthews also known as Vanity for her beauty, because she gave up the glam and glitter of Hollywood to become an evangelist.
What are you up to right now; any current projects?
Right now, I am still trying to heal or rather waiting for the full manifestation of my healing because I still have some deficits. I am working on a personal project for which I would like to complete before I make any revelations.
I noticed you're a fan of Evangelist Denise Matthews, how has she inspired you?
Yes, Evangelist Denise Matthews a.k.a. Vanity is one of my biggest role models. She inspires me for her outer beauty and sophistication. She also inspires me, because she has an awesome testimony about physical healing and deliverance from substance abuse, and the fact she is saved.
Philippe Matthews' is READING and recommending the new Children's book by Sonja Michelle Crockett entitled, "Christianna!" Sonja says, "This is a children's book about a six year old African-American girl name, Christianna. There are four stories incorporated in the book: "Christianna's First Day of School", "Christianna Gets Discovered","Christianna Throws A Pajama Party", and " Christianna Talks to GOD". This book is primarily for 2nd and 3rd graders." Become a fan of Sonja and her book on Facebook!
Visit and "LIKE" Sonja's Facebook Page!

Sonja Black Bikini
Sonja the Matrix
Sonja in Pink & Black Lingerie
Sonja in White Two Piece w Hat