Have you ever noticed that dusty table when you have neglected dusting for weeks? Come on… admit it. It's happened at least once or twice in your lifetime. I've even had artwork from smiley faces and hearts to graffiti messages like "Dust Me" written on my ignored surfaces. Now that you've confessed, let's take a closer look at that table top. It has lost its original glossy appearance. It looks dull and ugly. It's not reflecting the light the way it does when it's all clean and polished.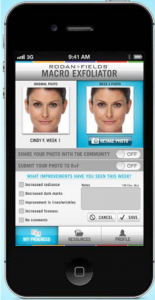 Your skin is just the same. When we are young, we have a rapid cell turnover rate. That means that the new skin cells move quickly up to the surface and push off the old ones. As we age, it takes longer and longer for the new cells to replace the old, plus the old become clingy and don't fall off as easily. The result is an over accumulation of dead cells on the skin's surface… or a dusty face. Dead cells absorb the light instead of reflecting it. Dull skin is the first sign of aging skin. Wrinkles, sagging and expanding pore size follow close behind.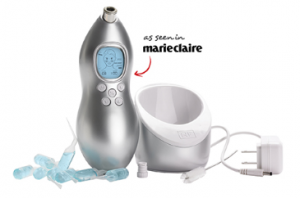 Don't worry. All is not lost! There are ways to tackle those pesky little dead cells and kick them to the curb. It's especially simple now with Rodan + Fields REDEFINE MACRO Exfoliator. This dandy little tool gently lifts off all the dulling, dead cells and vacuums them away! You will see a smoother, brighter complexion after your first use, yet it is gentle enough to use every week. (It will make your skin a little red, so I recommend using it at night. However, it comes with these awesome capsules filled with a cooling peptide infused gel which calms the redness more quickly and strengthens the skin.) After extended use, you will see a smoother, tighter, more reflective surface with fewer wrinkles and smaller pores!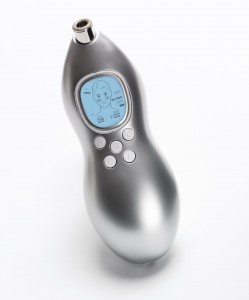 You only need five minutes every week, so it fits easily into even the busiest lifestyles. The diamond tipped MACRO E is fully automated with DOC Smart on an LCD screen that tells you exactly where, how and when to use on the different areas. The program even lessens the intensity when it's time to apply to the more delicate locations, such as the eye area. There is also a manual setting for professional use. If you are like me and rely on your phone's calendar to organize your entire life, you can download an app to send you reminders and track your progress so you never overlook your five minute appointment with this awesome beauty!
So no more excuses about why your skin isn't radiating your true, natural beauty. The writing's in the dust. It's time to exfoliate!
You are beautiful… Pass it on
Lavel Miller
Independent Consultant
Rodan + Fields Dermatologists
(732) 779-5038
lavel@morethanjustskin.com