Listen to my Exclusive Interview with
Author, Filmmaker, Toy Monique

The world we live in is usually unfair. A lot of people already have preconceived notions about certain individuals, especially if we're talking about models and beauty queens: they're all beauty but no brains, they're not going to last long in the industry, they crave for attention.
Toy Monique has definitely gone through a number of harsh scenarios where she was judged, criticized, and even harassed. But the cruel realities of the world she is in doesn't deter her to prove that she's a woman of substance and has even achieved more than those who are putting her down.
The Full-Figured Model
The modelling industry is usually represented by the skinny women, but thankfully the BBW's (Big Beautiful Women) have found their ambassadresses in people like Toy Monique. As a full-figured woman, she reminds me of someone who should be on the show, Curvy Girls and her beauty, vivaciousness, and curves helped her land in several print ads. She has worked with some of the top fashion designers in the country, especially in New York, and has appeared on CNN and in USA Today. She's a fixture in Plus Model as well.
The thirty-one-year-old dusky Monique grew up in Chicago, Illinois, where she took home the Miss Illinois Plus America in 2011. She then represented the state in the national competition and won almost all of the categories.
Not Resting on Her Success
As a model, you can definitely say that Toy Monique is extremely successful, and she's the face of contemporary women. She knows she can do so much more. One of the things she did was to work differently in the print media. She became an author.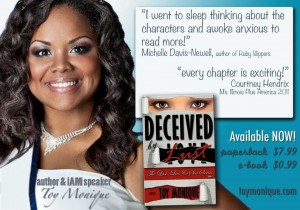 Indeed, Toy Monique is an accomplished self published author—definitely not an easy feat considering the amount of time and money it requires from her. Nevertheless, all her efforts and creativity are paying off. Her book Deceived by Lust, which is now available in Kindle at Amazon, has been gaining great reviews especially from certified bookworms.
Deceived by Lust is the first of the trilogy Lust, Lies, and Sin. It follows the love affair between Madison Houston, a woman who has been burned by philandering men far too many times, and Gavin Richards, a dashing man who's treating her like royalty but may turn out to be one of the guys Madison is trying to avoid for the longest period.
Readers are not only taken on a roller-coaster amorous ride filled with passion, romance, deceit, and lies, but they are also encouraged to talk about it themselves through Chat and Chew Tour.
Currently, Monique is busy promoting her book, as well as writing for Examiner.com.
The Message She Wants to Tell the World
Toy Monique is a beauty, a vamp—but she doesn't fit the stereotype at all. Rather, she reveals a different kind of gorgeousness, as she works alongside GEMS and Lady Love to fight child abuse and human trafficking. She lives up to her own mantra, which is to change or influence the world one striking pose at a time.
RELATED STORY
THE TOY MONIQUE NETWORK
ENJOY THE TOY MONIQUE SLIDE SHOW!
toy monique
2013 FASHION WEEK
Chris Kluwe On Mike Priefer: u201cHe Was Dead Serious When He Said Itu201d - Vikings Territory
Chris Kluwe On Mike Priefer: "He Was Dead Serious When He Said It"Vikings TerritoryVideo game guru, radio personality, Shakespearian whiteboard user, rock n' roller, and family man. These are all things that Kluwe has received press for over the years, but he is now destined to forever .... As most of my regular readers know, I was ...and more »
More at
Chris Kluwe On Mike Priefer: u201cHe Was Dead Serious When He Said Itu201d - Vikings Territory