Ever since she was a young girl watching her favorite television program "The Cosby Show," Angela Winfield always knew she wanted to be a lawyer. After all, that was the profession of the character Clair Huxtable, who was a lawyer and wife to Bill Cosby on the 1980s sitcom.
She remembers being four years old with people asking her what she wanted to be when she grew up. She would always say, "a lawyer." Fast forward to more than twenty years later, Angela has achieved what she always wished for since she was a young girl.
However, the road towards this path of success wasn't always sweet.
The Winfield Family
Angela is the youngest of three children. Both of her parents are teachers, so naturally, the stress on the importance of getting an education was very high. Rightly so, all three of the Winfield children are college graduates.
Anthony, her brother, is an engineer. Her sister, Melissa, is a teacher.
According to Angela, she has a really normal childhood. She was allowed to ride on her bike and play with other children in their neighborhood. She even said that she had a few years when she had perfect attendance in school
The Early Years
Angela was born and raised in Newburgh, New York. Her education consisted of attending public schools. When she was four years old, she became the recipient of very bad news: she was diagnosed with a variety of maladies which included juvenile rheumatoid arthritis, cataracts, glaucoma and uveitis (the inflammation of the uvea, which is the middle layer of the eye).
All throughout her childhood, Angela had to go through several eye surgeries just to correct and control her vision loss. However, all of this was to no avail. By the time she was 10 years old, she was declared legally blind. This news drove Angela into a state of depression.
Her vision continued to slowly deteriorate when she was taking her primary and secondary education. By the time she was fourteen, Angela became withdrawn and suicidal. Despite this, didn't let her studies go to waste. She was a good student who excelled in all of the classes she took. She even took all honors and advanced placement classes. Thanks to her hard work, Angela was inducted into the National Honors Society and the National Language Honors Society.
The College Years
When she graduated from high school, Angela chose to pursue her collegiate studies at Barnard College at Columbia University in New York City. It was during her second year in the institution when she suffered another setback with her vision. This was the time when her uveitis flared up which eventually led her to lose her vision at the age of 20.
Rather than let her loss of sight be a hindrance, she used this as motivation to further succeed. Despite losing her sight, Angela continued to study at Barnard College and even continued her studies at the Queen Mary College in London for a semester.
When her uveitis flared up, she was in the middle of a classroom presentation. Instead of quitting, she continued through it. In her own words, "I winged it." She just relied on her memory. After that, she had to endure four final exams in two days before she went to see an eye specialist who prescribed medication to her.
Angela openly asked the specialist if she would get her vision back, knowing that it might never be the case. The specialist told her "I hope so."
Even her college advisers told Angela to take some time off from school so she could adjust to her vision loss. However, she decided to continue on.
It was during her junior and senior year in college when she got a Seeing Eye dog called Ogden, a black Labrador-Golden Retriever mix. She got the dog at the headquarters of the organization in Morristown, New Jersey.
When Angela graduated from college in 2005, she finished with a bachelor's degree for combined majors in political science and human rights. She also had a minor in religion.
She decided to pursue a law degree and applied to several law schools. She eventually decided on Cornell because of the reputation of the school and because it was close to Auburn.
The Law School Years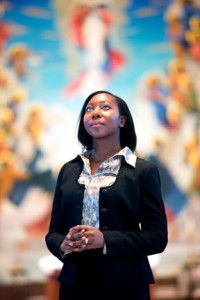 After finishing her studies at Barnard College, she attended Cornell Law School. While studying in this esteemed institution, she discovered that she had a passion for advocacy. While in law school, she found herself participating in moot court competitions, two of which she ended up as a quarter finalist and semi finalist.
For her internship, she served as a law intern at Cornell Legal Aide where her duties were to represent clients in employment, social security and criminal matters. She also served as a clerk for an acting New York Supreme Court judge.
When Angela finished her law studies at Cornell in 2008, she was awarded with a Juris Doctorate and a concentration in advocacy.
There were among her achievements while part of the institution:
Associate Editor, Legal Information Institute Bulletin
Semi Finalist, Cuccia Cup Moot Court Competition
Quarter Finalist, Langfan First Year Moot Court Competition
Bench Editor, Moot Court Executive Board Member, 2008
The Law Industry
She got a summer position with Hiscock & Barclay in 2007. When summer ended, she was offered a permanent job with the firm.
Angela was admitted to the New York state bar as a practicing lawyer. This was such a feat for her, according to her peers, given that she is a blind attorney. On Angela's part, she never saw it as "overcoming" her circumstances. She says, "If you want something and you work hard enough, you can have it. It's the American dream, I guess. It's just drive. It's focus, drive, and in certain senses, faith."
Angela currently serves as an attorney for the law firm of Hiscock & Barclay LLP, a top 250 law firm that provides business, corporate, estate planning and real estate legal services from offices in New York, Massachusetts, Washington and Ontario.
According to Angela's father, Edward Winfield, he is not surprised with the accomplishments his daughter was able to achieve. Mr. Winfield always saw Angela as someone who is very persistent at what she does and that she has been like that all her life. He also goes on to say that she has always been the type of person who excelled beyond the norm.
The Lawyer
As part of her work, Angela represents individuals and businesses in different types of commercial disputes and litigation which include contract disputes, securities claims and fraudulent misrepresentation actions. Apart from that, she also represents municipalities and corporate entities that concern Indian land claims and Indian law matters.
She is a member of Hiscock & Barclay's Commercial Litigation Practice Area. Because of this, she has experience with different aspects of litigation from pre-suit case evaluation to motion practice, settlement negotiation and trials and appeals.
Where Angela excels in is her ability to represent clients in post-judgment and intermediate appeals before federal and state courts. Angela's ability to analyze complex issues of law from a critical standpoint as well as being able to structure facts is what makes her so good at simplifying and framing arguments in a compelling and persuasive manner.
Thanks to her education, Angela is able to understand the appellate process a whole lot better as well as differentiate clearly between effective trial advocacy and effective appellate advocacy.
Angela is a member of the American Bar Association's Council of Appellate Lawyers. She is also a member of the Syracuse Office Diversity Leadership Team and the Women's Forum of Hiscock and Barclay.
Here's a couple of her rep experience at the firm:

Served as trial and appellate counsel to international foreign corporation and stockholder in federal law suit in the Eastern District of New York and the Second Circuit Court of Appeals regarding Alien Tort Statute and Torture Victim Protection Act claims.
Represented a commercial real estate investment company in a dispute that involved the transfer of a Walgreen's store.
Served as trial counsel to a private property owner in a lawsuit that concerned the breach of a construction contract.
Defended a gas analysis instrument company in a dispute it had with its food and beverage vender.
Served as a pro bono trial counsel for a single mother and her two sons who were unlawfully evicted from their home and suffered the loss of their personal property.
The Publisher

Angela has written a number of works over the years, and these include:
"You Can't Make That Argument!…Yes, You Can!", ABA Appellate Practice Journal, Volume 33, Issue 1, Winter 2014
"New York Appellate Workshop: Real-World Tactics", National Business Institute Seminar. Topics included "Brief Writing: Tips You Didn't Learn in Law School" and "Oral Argument Strategies." September 2013.
"Chicken Soup for the Soul: The Power of Positive", Contributing Author, October 2012.
The Civic Activities
These are some of Angela's civic activities:
United Way of Cayuga County, Board of Directors, 2011-present
Auburn YMCA, Board of Directors, 2010-present
Aurora of Central New York, Board of Directors, 2009-present
Cayuga/Seneca Community Action Agency, Board of Directors, 2008-2010
Leadership Cayuga Class of 2009
NAACP
Realizing Her Impact on Others
When Angela realized that her success was impacting others in a good way, she began spreading her message and sharing her system for success with others. Her mission is to motivate, educate and inspire people so they can reach their full potential. She wants people to create lives that they love living in order for them to contribute to the collective good in the world.
This is why Angela has also carved out a niche for herself as a speaker and as a coach.
The Speaker

Angela knows how to deliver empowering key note addresses, as well as hold successful workshops and seminars. She also participates in panels. She has a range of presentation topics and titles people can choose from. Some of these include:
Open: Create a Life You Love Living

. A 45-minute keynote program that will OPEN the mind, OPEN the eyes and OPEN the door to your full potential, unlimited vision and true success. It is geared towards those who are ready to take a deep look into their life, willing to change their old ways which are holding them back and excited about becoming the best person possible.
Blind Leadership: How to Lead with Vision

. In this program, Angela teaches businesses how inspired leadership can boost employee morale and bottom line. Among the things participants will be able to do include understanding the importance of employee engagement in the success of an organization, creating a supportive team environment, facilitating communication that results in new ideas and creative solutions and much more.
A License to Drive Blind: Engage Your Employees, the Engine Driving Your Business.

As a blind attorney, entrepreneur and leader, Angela has the first-hand experience of what it takes in order to be successful. Through this program, Angela leads participants to put productivity and creativity into overdrive. As a result, employees will be more engaged in helping an organization succeed.
Some of her clients include:
Cornell University
Syracuse University
Prudential Financial
Dewitt Library
Mobility International USA
The Coach
As a blind motivational speaker, Angela knows how to help others overcome all sorts of blindness – physical blindness, emotional blindness, blindness to opportunity, blindness to own worth, blindness towards path to happiness and success.
Angela believes that blindness isn't just a physical sensory condition. Rather, people are blind to many other aspects in their life. This leads them to feel like something huge is missing from their life. This leads them to feel lost, confused, stuck and hopeless. This causes them to search constantly or wish for a meaning or purpose in whatever they are doing each and every day.
In order to help them with that, Angela offers people her coaching services. As someone with much success as a blind motivational speaker, she knows how to help people who may feel a little unhappy with their situation and make them feel a whole lot better.
Angela Winfield will be guesting on Philippe Matthews' Live Google Hangout real soon! Check out the event page now if you want to hear directly from Angela about her life and others. Stay tuned on June 27 when the episode of her interview with Philippe Matthews, "The Oprah of the Internet" will air. Here's how you can RSVP to the live Google show.



Where else can you find this phenomenal blind attorney?