With three of his brothers making a living in Hollywood, Daniel Baldwin was always going to be a fixture on the red carpet and the media. Of the Baldwin brothers – Alec, Stephen and William – Daniel was the troublemaker, a fact so true even in childhood. His older sister Beth remembers him as the one being at the receiving end of their father's disciplinarian ways.
In a feature for ABC News, Daniel described "Alec as the big star, Stephen is the born-again Christian and Billy is popular with the girls." Unfortunately, he was given the label "the drug one" for the numerous times he's had problems with addiction.
Life as a Baldwin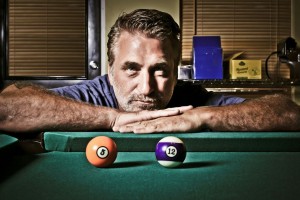 Born Daniel Leroy Baldwin on October 6, 1960, Daniel is the second eldest son of Carol and Alexander Rae II. He was born in the middle-class town of Massapequa, New York on Long Island. The Baldwins were a large Irish Catholic family with half a dozen born to his parents over the course of 11 years. The eldest is Beth, followed by Alec (called Xander) and then Daniel. Three years after, Billy was born, followed by Jane then finally, Stephen.
His mother used to teach but turned into a stay-at-home mom when Daniel was a child. His father taught high school history and was the head football coach at Massapequa High School.
Acting & Abuse 
When Alec got into the entertainment business, Daniel soon followed suit. He has been in over 70 films since he began acting, and among the features he's done include Paparazzi, John Carpenter's Vampires, Mulholland Falls and Trees Lounge. He also had roles in television, the most notable of which were four years as Detective Beau Felton on Homicide: Life on the Street.
Daniel recently completed shooting the film Sicilian Vampire, directed by Frank D'Angelo and stars Paul Sorvino, Daryl Hannah, Michael Madsen, Franco Nero and Eric Roberts. The film is described as "equal parts Goodfellas and Dusk Till Dawn" and tells the story of mobster Sonny Traficante who hopes to get rest and relaxation at the family hunt lodge, but instead, is plunged into a whole new adventure.
His first solid acting job came when he was 29 years old and it was on the sitcom called Sydney. It didn't take long for him to get into the drug habit which eventually led him to hit rock bottom then plunge even lower and lower.
For many years, Daniel got into the news for his problems with not staying sober, with the most popular being his very public overdose in the historic Plaza Hotel in New York City in 1998. He had another relapse in 2005 while on VH1's Celebrity Fit Club.
The spiral continued on and Daniel became a tabloid favorite for all his troubles. After he was attested for stealing a vehicle and for suspicion of drug use on November 11, 2006, Daniel was threatened with a prison sentence.
Soon after, Daniel checked into the Renaissance Malibu, an exclusive rehabilitation center in the US. Now, Daniel is a born-again Christian and has been sober for the past couple of years. According to Daniel, he's taking his sobriety very seriously and moving forward with his career.
Turning His Life Around 
Apart from being an actor, Daniel has dabbled in directing too. His film, The Wisdom to Know the Difference, which he also stars in has been receiving praise from the filmmaking community. A topic at the center of the film is something that Daniel is very familiar with: addiction.
Wisdom tells the story of a former addict and convict named Bob, played by Baldwin, and his journey to bring his sobriety full circle. In the film, Bob is asked by an old friend to help a young woman get rid of a serious drug problem. A family member (played by Daniel's brother Billy) pressures him to stay on the straight and narrow, but Bob puts his on life at risk and faces dangers just to help out the young woman with a drug habit.
It has been hailed as the "best recovery film of all time" and it's won a couple of awards too as it makes its way around film festivals.
Widsom was awarded Best Feature Film – Drama at the Burbank Film Festival and Daniel bagged the Best Actor award. Other festival screenings include:
The film is also an official selection to the Fort Lauderdale Film Festival and the Big Apple Film Festival.
For Daniel, "This film is near and dear to me. There are millions of Americans who suffer from addiction and if we can reach just one person with this film, it would be the biggest reward ever."
To get updates on Daniel, check out the following links:
The Philippe Matthews Show (Recurring) Programming Donation
If you enjoy the content featured on our Blog, Radio and Live Video show, please give a one-time donation or recurring donation to help with further research, production and show topics.