Listen to My Exclusive Interview with
Motivational Speaker Jessica Cox

Jessica Cox was born without arms in Sierra Vista, Arizona, in 1983, and yet her list of accomplishments easily surpasses anyone who's born with a complete set of limbs. Nobody really knows what caused her condition except that it was an unusual birth defect.
Her parents and their extended families first expressed their apprehension and even helplessness for the small newborn Jessica. Inez, her mother, was particularly worried on who will take care of her when she grows up. Her father, however, never shed a tear. He believes she can do greater things—he was absolutely right.
Moving Her Feet
To be truthful, Jessica and her family didn't have a well-paved road ahead of them. But Jessica, who had now grown into a beautiful teenage girl, was very persistent. After her powerful dance performance at school, where she received some of the loudest applause, she trained for dance for more than 10 years. Before she even graduated high school, she had already earned a black belt for taekwondo under the tutelage of Jim Cunningham.
Because of her great desire to help others get past their own different abilities, whether physical, mental, or emotional, that are preventing them from reaching their dreams, she took up a degree in psychology at the University of Arizona. While trying to earn great marks in school, though, she created an American Taekwondo Association club on the campus, worked with other instructors to develop a curriculum that fits armless taekwondo students, learned all the other color belts, and finally earned another black belt for the organization—the first armless person to do so.
Flying High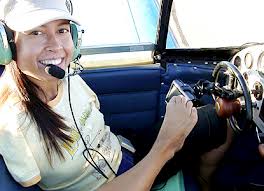 Obtaining two Taekwondo black belts is already a huge feat, more so for someone who trained for the sport using only her pair of feet. However, Jessica dreamed some more and eventually thought of the unthinkable. For one, she opted to acquire more daring abilities such as flying her own plane.
It took her about a year of frustration and disappointment before she was able to find the right aircraft to fly. It was a 415C Ecroupe launched in 1946. She then trained to be a pilot for 3 years through a scholarship called Able Flight and earned her license in 2008. She can now professionally fly a light sport plane up to 10,000 feet. Beyond the certification, however, Jessica landed in the Guinness Book of World Records as the first person to be licensed to fly a plane using feet.
Today Jessica has an unrestricted license to drive her own car with no modifications at all and a licensed SCUBA diver. What she's most proud of though, is being able to travel all around the world, delivering her inspirational story to thousands of attendees. So far she has traveled to more than 15 countries and created her own company called Right Footed. Jessica received commendations such as 100 Most Influential Filipino Women in the United States and Most Inspirational from Inspiration Award for Women. Her outstanding story was featured across multiple TV shows and magazines. She also traveled to Africa working closely with organizations such as Handicap International.
Jessica is married to Patrick Chamberlain.
 THE SOLE TO PRESERVE:
RELATED STORY:
GET SOCIAL:
JESSICA COX SLIDE SHOW:
jessica cox