Listen to My Exclusive Interview
with Johnny F of Peace Anonymous!

CAN'T SEE RADIO PLAYER, CLICK HERE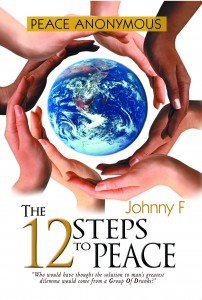 Wars are almost as old as the world itself. During the early years, clans killed one another for pride and land. Troops of various descent pillaged villages and cities to establish domination. The idea of conquering the world was not a product of mere illusion at all.
Fast forward to hundreds of years after, wars still continue to thrive. Though the reasons may have changed, only one thing remains the same: they only feed violence and deep loss.
In 2011, over $1 trillion of taxpayers' money was used for the Iraqi War. More than 4,000 U.S. troops died, and around 55 percent were no more than 25 years old, and 19 percent died in non-hostility.
Wars disrupt the economy, drain resources, and displace people—they push mothers, fathers, and even children on survival mode, doing whatever it takes to protect what is theirs such as their lives. This could mean killing the others before they are killed.
Johnny F. definitely knows what war is. He had breathed, lived with, and survived it for many years. He traveled to Columbia, Iraq, Libya, Yemen, and Afghanistan without the assurance that he would be able to fly back to see his family or see any bloodshed.
While dire situations such as these were bound to toughen souls, for Johnny the effect was so different. The more that he was out there, the more he became human and saw the carnage brought about by greed, hatred, and indifference. He later succumbed to all the negative emotions and eventually became an alcoholic.
Thanks to Alcoholics Anonymous, he was slowly able to regain his life. The 12 Steps programs had been instrumental in providing him direction, sense of purpose, and, most of all, peace. It is the latter that also compelled him to do two things: one, to continue attending the meetings even if he is already sober for a while, and two, to introduce a new way to peace, inspired by the AA program.
The book 12 Steps to Peace was one of the main products. It is a manifesto or a commitment to always think and act peace in our lives, in the hope that when we are filled with it, we would be able to share the principle with others. The creation of the book, furthermore, ensures that hundreds of people will be able to learn the message in one go, and the seed he's been trying to plant can sprout more quickly and efficiently.
12 Steps to Peace also introduces the readers to Peace Anonymous, a collective of men and women who believed that humans are for a much higher calling, that there's a Higher Power that governs all things and possesses the power to bring us to the right direction, and that peace is achievable even in the midst of suffering, pain, and violence.
The book's goal is a tall order, but if readers take to heart the program, then peace may no longer be elusive.