Often I study consumer behavior statistics to get to know changes in my market. It has been said that women are the primary decision makers in almost 90% of all home purchases. In all my projects this statistic has been correct, unless I dealt with single men.
In Italy we have a saying that goes like this:
"I am the boss, but the person who bosses me around and makes decisions is my wife".
In my career as a designer, I made many observations on the way homes are built, often not reflecting people's needs. Most common homes are built square as shoeboxes, (round shapes are difficult and costly), large rooms to fill with stuff and possessions, high ceilings to waste a lot of space and very little attention devoted to the spirit.
If I were a builder, I would pay more attention to people's living habits. I would make the necessary adjustments to the concept plans to ensure the home has harmony and beauty first, then comfort. Coming home from work should be a pleasant experience, even when we have a lot of chores waiting to get done.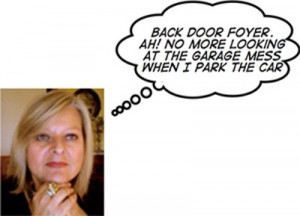 In all my years in design business, I have observed how people enter their home.
The front door is beautifully decorated, but they hardly see it everyday. The front door is reserved for the guests, but the owners of the house reserve to themselves the ugliest part of the house to enter from: the garage, where a pile of laundry, the cars, the stuff and all the mess will greet them everyday.
During the year, I make a round of visits to my clients' homes and leave a small token at the door if they are not there. Then, I will call them to let them know I was at the house and left a package at their step, otherwise they will never see it. The phone call spoils the surprise!
One day, I thought if I were a builder, I would design the house with a back door foyer with one door leading to a mudroom/garage and one door leading to the kitchen. In the back door foyer, I would create a drop zone for the mail, keys and charging area for phones and electronics, that way all that stuff will not end up on the kitchen counter.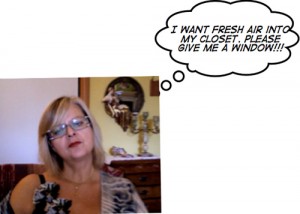 I have spotted a point of disadvantage in the all the closets in American homes. Closets don't have any windows, they are built in or outside bathrooms, making clothes smell musty, molded and old. One more thing, people who live with pets, wears the smell of their pets on their clothes. Think about it, just an operable skylight will suffice.
I get up in the morning and open my bedroom to the world and fresh air. It's a good way to keep the house and myself healthy, I would do it even if I lived in a cold climate. A few minutes of fresh air doesn't hurt anyone and helps the clothes smelling fresh.
Insert photo here: MahoganyLinenCloset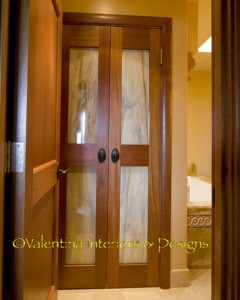 If I were a builder, I would add a window in all the closets; I would relocate the linen closet outside the bathroom and find a way to circulate fresh air into it.
How about hosting dinner parties and entertainment? I remember a different functionality in European kitchens. We had a small area off the kitchen, closed with a door, where food preparation and cooking took place, it was called the hot kitchen and it was furnished with a sink and garbage. When food was ready, we brought the plates to the table in the better part of the kitchen for everyday informal eating. The same area was also the place where we had a cup of coffee with close friends, we paid bills, kids often did their homework and we mingled with family. Formal dining room was close to the kitchen, but not close to the hot kitchen, just so the cooking smells would stay away from the formal area. Outside the hot kitchen, we had the spice garden for our cooking needs.
If I were a builder, I would return to the European way of planning the kitchen for real cooks.
For people who don't cook but spend a bundle of money in remodeling the kitchen just to have a good resale value, I suggest to save that money and go on a fantastic trip.
Open spaces, dual-purpose stairs, unutilized spaces turned into workable zones and so many more details I would pay attention to if I were a builder creating a livable home my way that would embrace soul, mind and body of everyone living in the house.
Remember to tell me your story, I will design your dream. Ciao,
Valentina
www.valentinadesigns.wordpress.com
Copyright © 2013 Valentina Cirasola, All Rights Reserved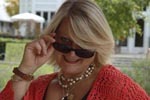 Valentina Cirasola is an Italian Interior Designer working in the USA and Europe since 1990, specializing in kitchen, bath, wine cellar, and outdoor kitchen designs. Often people describe her as "the colorist" as she loves to color her clients' world and loves to create the unusual. "Vogue" magazine and many prominent publications in California featured Valentina's work. She also has made four appearances on T.V. Comcast Channel 15. Author of three published books, the latest RED – A Voyage Into Colors is on the subject of colors.