People love to cruise. One of the features that consistently attracts passengers is the 'very inclusive' nature of a cruise vacation. Your traveling resort delivers you to new and exciting destinations each day, while providing a virtual smorgasbord of onboard entertainment and dining options. With so much included with your fare, a cruise provides an incredibly budget-friendly vacation when compared to a similar land-based offering.
Still, a cruise vacation is not totally inclusive, and without some planning and vigilance, it can be easy to overspend on your onboard account. Following are a few helpful tips to help you enjoy your cruise to the max while keeping account charges in line with your budgetary reality.
Establish a budget
The best way to avoid potential 'sticker shock' at the end of your cruise is to create a budget well in advance of departure. Establish the maximum amount for your out-of-pockets, and consider how you will allocate those funds. Plan for staff gratuities as a 'mandatory expense' since the crew works very hard and tips constitute a major part of their compensation – amounts vary by cruise line but generally are in the range of $11.50-$12.50 per person per day. Plan where you'll splurge, be it on shore excursions, casino and bar expense, shopping, spa, or specialty dining. Finally, monitor your onboard account daily to ensure you're on track with your plan.
Consider a beverage package
Most cruise lines offer beverage packages. Some sell a card or sticker that allows you to consume an unlimited number of soft drinks at costs ranging from $4.50 to $7 per person per day. Other ship packages come with a certain number of soft drinks at a discounted price. These packages can provide measurable savings for people who consume 3 or more such beverages per day. Some lines also offer some variation of a wine and cocktail package. Before you sail, check the specifics of your cruise line's offerings to determine whether their promotions make sense for you.
BYOB
While virtually all cruise lines prohibit passengers from bringing alcohol aboard, many do permit you to carry on one bottle of wine for each adult over the age of 21. Most will allow you to bring aboard 'reasonable amounts' of soda and bottled water as well. Assuming you and your traveling companion bring two bottles of wine and a 12-pack each of soda and bottled water, this should provide savings in excess of $100. Before heading out, be sure to check with your travel advisor about your cruise line's specific policies.
Shore Excursions
Excursions provide some of the most memorable experiences of a cruise vacation – but they can also quickly add to the bottom line of that onboard account. Consider booking an excursion through a reputable independent provider rather than direct through the cruise line. Chances are you will benefit from a smaller group experience that also provides significant savings over a similar excursion booked on the ship. You can book with confidence with providers such as Shore Trips, Viator, or Shore Excursions Group.
Timing is everything
Leave the majority of your onboard shopping until the end of your cruise. The shops frequently offer 2-for-1 specials on t-shirts and other apparel, as well as major discounts on watches and jewelry, on the last night of the trip. This is the perfect time to stock up on souvenirs for the folks you left at home. Schedule your spa appointment for a port day, rather than sea days. A stop in a port you've previously visited provides the perfect window for an indulgent spa treatment. Not only will you avoid the crowds, but you can likely take advantage of special discounts offered while most passengers have gone ashore.
Consider a luxury cruise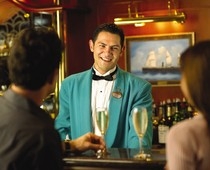 What? Save money with a luxury cruise? For some, it truly can be the more economical option. If you are a traveler who books suite-level accommodations on a premium cruise line, you may actually save significantly by booking a luxury cruise product. Since so many amenities are included on these upscale products– not only beverages, premium dining, transfers and shore excursions, but sometimes air fare and pre-cruise accommodations as well – you could actually come out money ahead by booking the 'more expensive' cruise product.
Conclusion
A cruise provides an outstanding, budget friendly vacation. With just a bit of advance planning, selecting the best cruise and onboard products for your lifestyle — and a daily check of your onboard account – you will enjoy a fabulous vacation, and no sticker shock when settling that onboard account.
If you enjoyed this article, click on 'subscribe' above to be notified when new articles are published by this author.
Questions or comments? Contact me.