Did you know that the fashion industry is the first to dictates new trends in home décor, car design and every aspect of our lives?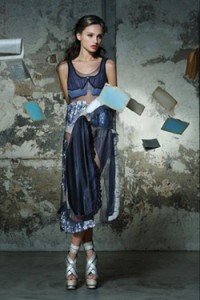 Home transparencies came about when a few years ago fashion designers invented the lingerie effect in clothing. Soft layers over soft textures create dimension and an interesting personal image.
Window treatments are now reflecting the same concept of transparency. Layering fabrics, colors and textures makes a fluid home, allowing some extravagance and eccentricity.
Decorating is all about creating a vision and a personal style, but it's also about how to relate to the environment outside the door. Train your eyes to see your surroundings, look at the color in the nature, learn to accent what your see out there and bring that beauty inside the home. The view outside the windows most likely will determine a few choices for your interior décor. Curtains are called window treatments and not window coverings any more. Their functions have shifted from exclusively covering for privacy, or block the light when sleep is needed to revealing the environment and add fantasy or whimsy to the interior.
If we want to take window treatment a step further, then we need to consider renewal energy with Energy Curtain made by industrial designers Anders Ernevi, Margot Jacobs, Ramia Mazé, Carolin Müller, Johan Redström and Linda Worbin.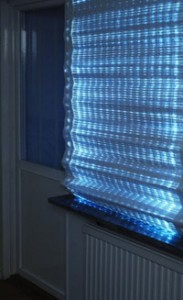 The energy curtain is an interesting concept for generating renewable energy. It reinterprets our relation to curtains as a way of controlling 
light in a room. The curtain has solar panel incorporated. It must be drawn shut in order to collect light. The amount 
and duration in which it is drawn during the day determines how much light is collected 
for the night. This is a new way to conserve energy while you are gone all day and don't need to see the view. The light in it creates the atmosphere and no other embellishment is required, but not all the window treatments are so ready to go.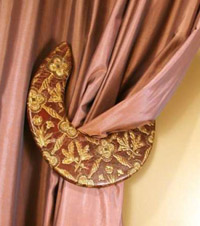 I was very pleased to have discovered some unusual tiebacks last month.
I was in Italy and France visiting fashion houses, window treatment stores, home décor and antique stores. Designer Rémi Lemoine created a new concept of oversized drapery tiebacks made of shells, metal, damask and anything else that strikes his fancy. His tiebacks become the designed window where a simple fabric dressed with these most unusual tiebacks will look like a million dollar.
Italian Designer Moschino says "Style doesn't exist. Style is the ability to combine ensembles of ideas in such a way that people perceive it as creative and original". When decorating a home, be yourself and why not extravagant and eccentric, experiment with your emotions, create your own vision. It beats being like everybody else with a common place to return to.
I am always prompt and ready to assist you in any of your decorating decisions. Let me be your chosen designer who can put stardust in your décor.
Ciao,
Valentina
Copyright © 2013 Valentina Cirasola, All Rights Reserved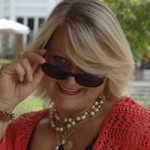 Valentina Cirasola is an Italian Interior and Fashion Designer working in the USA and Europe since 1990. Often people describe her as "the colorist" as she loves to color her clients' world and loves to create the unusual. "Vogue" magazine and many prominent publications in California featured Valentina's work. She also has made four appearances on T.V. Comcast Channel 15. Author of three published books, the latest RED – A Voyage Into Colors is on the subject of colors.