Have you ever felt precious in a particular color? Emerald green might just be one of those colors. Emerald green emanates all the luster of a gem, but it is a dark color whether one wears it or lives in it. In order to bring out its beauty, a beautiful lighting effect should play a major role, or colors that bring out light need to be paired with emerald green. Let's see how we can add color and light to this rich dark color.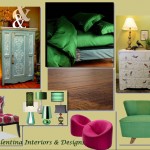 Color Scheme #1 – I am featuring a bedroom with light yellow, or golden yellow as a backdrop for all the walls and window treatment. The second color is magenta or pink flambé for all the seating in the room and the third color is emerald green which I left it minimal only for bedding, accessories, lamps, pillows, rugs if you like rugs, otherwise I would choose a distressed hardwood floor and a few items in a slightly different green, such as a chair. At this point, the room needs accents. White is considered a non-color, thus is perfect to complete the room with a few items such as a white dresser, some white lettering or a lamp. Voila' emerald green doesn't feel so dark any more.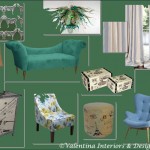 Color Scheme #2 – I am featuring a living room in emerald green, light blue and tan color. This color scheme requires lot of light, as I am using emerald green on large areas walls, sofa and seating. Light blue is dedicated to window treatment and some accent seats to mix in with all the green seating. Tan color plays the role of light with all the accessories and some container furniture, such as side tables, dresser drawers, poufs or lamps. The accent color for this room should remain minimal, perhaps a beautiful chandelier in many green tones and rust or golden accessories.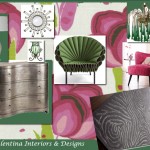 Color Scheme #3 – Emerald green feels good with opposite pink and looks even more precious with silver. Let's start by decorating one wall with wallpaper in a large print, it doesn't have to be floral, it can be abstract, geometric, or whatever you fancy. Pick up the pink from the wallpaper and bring it into some chairs. The major color is still emerald green for major pieces such as chairs and sofa, chandelier and all accessories. Now, introduce furniture painted in silver color, a rug with silver tone and mirrors in silver metal. What would I use as floor? A nice white washed and distressed hardwood floor will do the trick.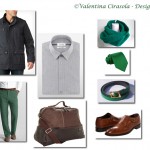 Color Scheme #4 – In this color scheme I am dressing a man, but of course it is not the only way I see a man wearing emerald green. The solutions are infinite.
Color is the language of the listening eye ~ Gauguin ~
Let me be your chosen designer who can put a smile in your colors in home décor or fashion. I can help you with any style. Put your name in the box, leave a comment and I will answer you within 24 hours.
Ciao,
Valentina
Copyright © 2013 Valentina Cirasola, All Rights Reserved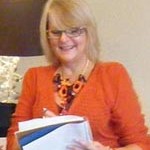 Valentina Cirasola is an Italian Interior and Fashion Designer working in the USA and Europe since 1990. Often people describe her as "the colorist" as she loves to color her clients' world and loves to create the unusual. "Vogue" magazine and many prominent publications in California featured Valentina's work. She also has made four appearances on T.V. Comcast Channel 15. Author of three published books, the latest RED – A Voyage Into Colors is on the subject of colors.