Monica A. Coleman – Writer, Scholar, Activist
RATED PHILIPPE'S BEST!
ABOUT MONICA A. COLEMAN
Monica A. Coleman – Writer, Scholar, Activist;  is committed to connecting faith and social justice. An ordained elder in the African Methodist Episcopal Church, Coleman has earned degrees at Harvard University, Vanderbilt University and Claremont Graduate University. Coleman is currently Associate Professor of Constructive Theology and African American Religions and Co-Director of the Center for Process Studies at Claremont School of Theology in southern California. She is also Associate Professor of Religion at Claremont Graduate University.
As a survivor of rape, Coleman became committed to speaking out against sexual violence in 1996. She founded and coordinated "The Dinah Project," an organized church response to sexual violence, at Metropolitan Interdenominational Church in Nashville, TN. Her expertise in religion and sexual violence has taken her around the country to speak at churches, colleges, seminaries, universities, and regional and national conferences.
Coleman's writings focus on the role of faith in addressing critical social issues. Coleman wrote about church responses to sexual violence in The Dinah Project: a Handbook for Congregational Response to Sexual Violence. In Making a Way Out of No Way: a Womanist Theology, Coleman discusses inter-religious responses to the joys and pains of black women's lives. She is the co-editor of the forthcoming Creating Women's Theologies: A Movement Engaging Process Thought and editor of the forthcoming Ain't I a Womanist Too?: Third Wave Womanist Religious Thought.
Because of her work with religion and justice, the interdenominational preaching magazine The African American Pulpit named Coleman one of the "Top 20 to Watch" – The New Generation of Leading Clergy: Preachers under 40. Coleman's articles have been featured in a variety of publications including ESSENCE, Journal of Feminist Studies in Religion, Philosophia and Aspire: Women of Color Study Bible.
She blogs on the intersection of faith and depression at www.BeautifulMindBlog.com and writes a biweekly column, "Women, In Flesh and Spirit" at www.Patheos.com, the website named by Newsweek as "the place to get smarter about religion." She has been featured as an interviewed guest on NPR, blogtalk radio shows and www.PsychCentral.com. She teaches weekly Bible study in her local church, and speaks widely on religion and sexuality, religious pluralism, churches & social media, mental health, and sexual and domestic violence.
BOOKS
The Dinah Project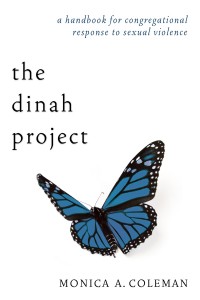 Sexual violence is rarely discussed in church, despite the rising incidents of rape, sexual assault, molestation and incest. The Dinah Project, which gets its name from Genesis 34 – the rape of Dinah, Jacob's daughter – was borne out of the author's decision to start healing through the church after being raped. What resulted is this book and an entire ministry program to assist churches in responding to sexual violence.
The Dinah Project describes programmatic ways in which a local church can respond to the crisis of sexual violence in the community. By sharing the lessons of one church, this book proposes detailed methods for instituting a church program. The Dinah Project provides church activities ranging from providing resources for members to ways to organize a full-time church ministry, and many stages in between. Topics include planning worship services, conducting community education workshops, working with local agencies, establishing a board of directors and holding therapy groups at the church. With checklists, forms and detailed explanations, this user-friendly book guides any interested individual from basic information about sexual violence to tips on budgeting for programs.
Making a Way Out of No Way
A Vision of Life and Justice in God
"A clear and accessible introduction to postmodern womanist theology" – Karen Baker-Fletcher
"An important postmodern theological statement" – James H. Cone
"Interdisciplinary, interreligious,
professional and personal, cutting edge and linked to traditions" – Dwight N. Hopkins
"Monica Coleman's clear voice and vision will
 help to shape the future of theology" – Marjorie Hewitt Suchocki
In her book, Monica A. Coleman articulates the African American expression of "making a way out of no way" for today's context of globalization, religious pluralism, and sexual diversity. Drawing on womanist religious scholarship and process thought, Coleman describes the symbiotic relationship among God, the ancestors, and humanity that helps to change the world into the just society it ought to be. "Making a Way Out of No Way" shows us a way of living for justice with God and proposes a communal theology that presents a dynamic way forward for black churches, African traditional religions and grassroots organizations.
CONTACT MONICA A. COLEMAN