Exclusive Interview with "Mo" of BenjiFrank.com!
Can't See Radio Player, Click Here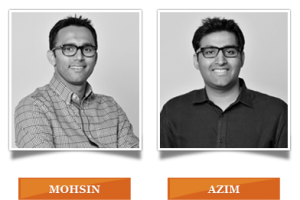 Benjamin Franklin was ultra-famous for many things: one of the Founding Fathers, scientist, and U.S. minister. (He's also well-known for his kite experiment.) It was his being an inventor, especially of bifocals, that eventually made him a star for two guys, Mohsin Momin and Azman Karedia, who founded and now heads BenjFrank.com – a fast-growing glasses retailer on the Web today.
Benj Frank is, yes, named after one of the best men to have ever walked on earth; and like the historical legend, the duo ensure that all their glasses are backed by sound science. After all, that's how one guarantees quality.
The "Super Lens"
Momin and Karedia invest on top-quality lenses for their glasses, and where else to get them than from the company who has over 60 years' experience in the industry? Carl Zeiss.
The sun lenses are pure, clear, and sharp. They are equipped with polarization filters made of micro meshes that help reduce glare, which normally occurs when streaks of light bounces off on wet and shiny objects or surfaces such as roads.
Considering that UV rays affect not just the skin but also the eyes, the lenses are covered with 100 percent UV-A and UV-B protection. This further reduces eye straining and ensures the maintenance of your overall eye health.
To keep the lenses very clean and clear at all times, the lenses use a special technology known as PureCoat. Its main job is to repel dirt and dust that block the view as well as make your glasses vulnerable to scratches.
The contours of the glasses allow sharper vision, and with almost zero glare and other blockage, seriously, you'll have the best "eyesight" with Zeiss sun lenses. You can go Presidential chic by choosing among the various tints and themes, such as Lincoln, Kennedy, and Reagan.
Benj Frank also offers two types of lenses for prescription. The high-index lenses are best for stronger prescription, but they are very thin and extremely fashionable you can wear them confidently in a party or business meeting. The polycarbonate lenses have an index of 1.59 but are durable they don't get shattered so easily.
Frame Fit Benji
Most definitely lenses are useless without frames, and Benj Frank doesn't come up short. Their high-end frames have been sourced out from different parts of the world, such as in Italy. They are designed according to the specifications or even special requests of the clients.
The website also incorporates some nifty tools to help you decide which glasses fit you best. Try the virtual try on by simply uploading a photo of yourself, or you can use your Facebook profile photo or the many male/female models  on the site. You will be  amazed how cool this technology makes shopping so comfortable and convenient.
Beyond the Glasses
Benji Frank shouldn't be defined by their glasses only, with the everyday customer in mind, the site sells all of their glasses for only $100 by removing the middleman from the supply chain. Further, for every purchase that you make, you can actually help others gain clear eyesight!
Now, that's how to keep Franklin's "vision" of service alive!
RELATED STORY: