Listen to My Exclusive Interview with
Dawn Silva – The Brides of Frankenstein!

When it comes to music, soul and funk are a deadly combination, and Dawn Silva takes full advantage of the two. The result is the worldwide recognition as one of the strongholds of funk music not only in the United States but all over the world.
Music Started Early
A lot of musicians do take a long time before they figure out that singing and playing are what they want to do their whole lives. This is certainly not the case of California-born and bred, Dawn Silva. While she was still in high school, along with her sister, she set up a band known as Windsong, and all played seventies hit music. Back then, she already possessed the funk, which was one of her main tickets to perform with George Clinton, who was a certified king in the genre.
Association with Sly Stone
Aside from George Clinton, Dawn worked closely with another funk legend Sly Stone. During one of Silva's performances in her garage, she was discovered by Cynthia Robinson, who was then working as Stone's drummer during live revues. After a couple of meetings, the rest became history.
Eventually, Dawn played with Sly Stone as well as with Lynn Mabry, who was Stone's cousin. (They were then known as Family Stone.) Fresh from high school, she recorded her first album as a backup for Stone and toured with Clinton's P-Funk.
The Original Brides of Funkenstein
After Stone backed out later on, Dawn and Lynn were then grouped by Dr. Funkenstein, one of Clinton's alter egos, and together they were called the Original Brides of Funkenstein. The band's name was a play from The Clones of Dr. Funkenstein, which was one of the albums released by the Parliament Funkadelic, Clinton's own band.
Clinton or Dr. Funkenstein was somewhat instrumental for the massive growth of Dawn's music career, but it was the Brides individual talent that caused them to soar and remain relevant for decades. Before the end of the 1970s, the Brides had released their own album called Funk or Walk under Atlantis Record. It was such a huge hit, selling more than 300,000 copies during the first seven days and topping the charts, landing no. 7 in the R&B section.
The Bride Became the Lead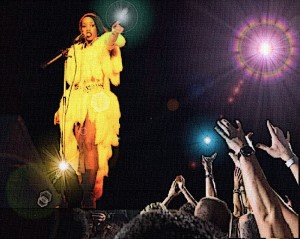 During the start of the 1980s, Lynn left the group, and Dawn, wanting to maintain the band, restarted the Brides with 2 backup singers, Jeanette McGruder and Sheila Horne. The three women then recorded the album Never Buy Texas from a Cowboy, which became a certified legend when it was crowned as one of the best albums to be ever produced, according to the Rolling Stones. They had also beaten the other popular acts such as The Pointer Sisters in Cashbox Rhythm and Blues.
Dawn then toured with other big hits in the industry like Roy Ayers, Ice Cube, and Snoop Dogg. By 2000, she released her first album All My Funky Friends, which sold successfully in Asia, Europe, and America.
Dawn Silva remains to be the Original Bride of Funkenstein, but she's more than that; she's the face of funk! A fine one I might personally add!
RELATED STORY:
GET SOCIAL WITH DAWN:
DAWN SILVA'S FUNK GALLERY:
dawn silva