Listen to My Exclusive Interview with Ebony J. Lewis
Filmmaker: Truth Unspoken

ABOUT EBONY J. LEWIS  – Writer /Director/Producer/Actress 
Ebony J Lewis is called by many credible people, one of the hardest working upcoming young women in the independent film industry. Born and raised in the North Bronx, New York, Ms. Lewis is a Pace University graduate, a member of the elite Writers Guild of America (WGA) and a member of New York Women in Film and Television (NYWIFT).
The past few years have been project filled for Ebony both working behind the scenes and acting in front of the camera. In May 2011, she completed 7 episodes of a web series she has wrote and directed called Truth Unspoken. Ebony has produced many film projects including a 6 time award winning short film shot on the Ivory Coast in Africa and New York City in 2010 called Abidjan. She landed a principle role on Saturday Night Live along side of Tina Fay, Steve Martin and Justin Bieber as Nadine, the Nanny. She was also on the A&E series Fugitive Chronicles playing Melanie in the Larry Davis story in 2010. Ebony was just recently cast as principle in a 2011 NY Daily News Commercial. She lives by a favorite phrase "Busy people get things done" and has quite a resume to prove it.
In March 2009, Ebony directed and produced a film she wrote and has since turned it into a web series called Truth Unspoken, a suspense drama of a couples journey through life, love, and lies. It has since then been the official choice of the HBOs Marthas Vineyard Film Festival 2009 and Kodak Mid Atlantic Black Film Festival 2009. It was shown in the Women in Cinema Festival in November 2009 and it's made its Los Angeles debut in December 2009 at the 16th Annual African American Film Market place & S.E. Manly Short Film Showcase. In January 2010, Truth Unspoken was shown in Park City Utah. Although it was not featured in the Sundance Film Festival, it was viewed during the festivities.
Ebony has also assisted and directed a number of independent films, worked as Unit Production Manager (UPM) on a few projects and was a production designer for a SAG short film. Ebony has written, directed, and produced three stage plays, and has several projects in development including writing her first feature film. Venice Beach-Los Angeles gave her an award for New Playwright for her original monologue called "No More Lies".
Black Entertainment Television (BET) is responsible for giving Ebony a start in the film and production industry when she landed an internship there while in college. She went on to have a successful career in finance and while climbing to the top she realized it was not for her. In 2006, Ebony J Lewis took a risk and jumped full-time into the film and entertainment industry with no regrets. Ebony is also an accomplished drummer and percussionist; she has played since the age of six.
Webisode Synopsis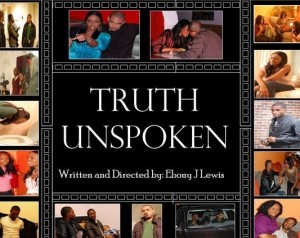 Filmed in New York City, "Truth Unspoken Web Series" is a thought evoking, suspense, love drama about lifes unexpected twists, turns and lessons. It starts when Jay finds out his girlfriend Tracy has been less than truthful with him, he confronts her only to find out more than he could ever expect … But, Tracy is not the only one with a secret, Jay has one too…
Everything is brought to the light when Truths are revealed yet remain unresolved as an ensemble of events begins to unfold. Where will the story end up? You will have to watch and see. This web series new age soap opera will have you at the edge of your seat wanting more.
Ebony J. Lewis