Watch Our Live Interview!

Phoenix Coldon was 23 years old when she drove her 1998 Chevy Blazer from her family's home in St Louis County, Missouri at 3 pm on December 18, 2011. Three hours later, her car was found at an intersection in East St Louis, about 25 minutes away. The door to the driver's side was open and the engine was left running. Since then, she hasn't been heard from or seen.
Tamika Huston, a 24-year old waitress from Spartanburg, South Carolina, went missing on May 2005. Around the same time, an 18-year old named Natalee Holloway went missing during celebrations for her high school graduation in Aruba.
Huston and Holloway were both young, attractive and from loving families. However, the similarities end there as the former is black and the latter is white. Holloway's case also received a fair share of media attention with reporters keeping the public up to date on the developments of the case. Huston never got front-page attention or even a mention on a major television news network.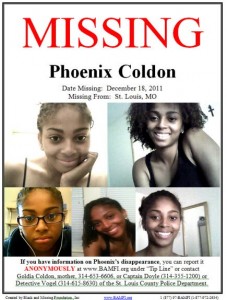 For Coldon's case, her parents have spent their entire life savings searching for her. From flyers to distributed mailers and even the searching of crime-ridden neighborhoods and appearing on television and radio shows, Coldon's parents have done it all. A lot of people have said they were impressed with the Coldon's efforts but Goldia Coldon says "I feel that we have not done enough."
On May 23, 2014, the Coldon family celebrated Phoenix's 26th birthday and they are still holding out hope that she returns. For the Huston case, her boyfriend was charged with her murder. Holloway was declared legally dead in Alabama.
The striking disparity between the disappearance of someone who's white and someone's who's black bothered Derrica Wilson. She witnessed how Tamika's family tried so hard to get media attention for their missing daughter, and she knew she had to do something to change that.
Sometime after Huston went missing, Wilson – from Washington, DC – laid out the groundwork for the Black and Missing Foundation, an organization that she co-founded and is dedicated to finding missing persons of color.
The Beginnings 
Wilson is a former police officer and has a decade of experience in law enforcement. Her sister-in-law, Natalie Wilson, is a public relations professional. A conversation between the two of them is what sparked the idea to start the Black and Missing Foundation.
In 2013, statistics from the FBI revealed that out of the 678,860 people who disappeared in the US, around 40% of those are people of color. But with less media attention along with lots of stereotypes and other presumptions, a lot of people aren't aware that missing black people is a big issue. It's almost always assumed that they are runaways.
Based in Washington, DC, the Black and Missing Foundation started in 2008. In 2012, they helped locate 71 missing people. Members of the organization work with local law enforcement agencies, the FBI, national media outlets and the families of the missing persons to spread awareness.
Craig Henry, director of programming and production of TV One which produced a docu-series called Find Our Missing, said that "I just think that the general belief about black people is that most of us live in impoverished conditions and crime is a regular part of our lives." He continued, "When you hear about people who happen to be missing, we area  bit desensitized, unfairly so, to black people and crime."
The Website 
The Black and Missing Foundation's website generates a ton of page views each month. It's here that the organization displays photos and descriptions of the many people who have gone missing across the country.
Each missing person gets their own page and all the pertinent details about them are mentioned. Everything from their hair color to their weight is listed. Even identifying marks – if there is any – has to be listed down. When and where they were last seen are also listed.
In case anyone has some information on the missing person, they can leave details through the Tip Line. The Tip Line is basically a form where details have to be inputted about seeing the missing person.
The site also allows people to report a missing person and search for a missing person. There is also a page dedicated to Cold Cases, which lists cases "whose probative investigative leads have been exhausted." That definition is by the National Institute of Justice as a case that has only been a few months old can be defined as being cold. But most of the cases listed on the Cold Case page are a number of years old.
Organizational Efforts 
Apart from raising awareness about black people who have disappeared, the BAM FI also provides families and friends with the vital resources and tools. The organization also seeks to educate the minority community on personal safety.
BAM FI is also dedicated to creating public awareness campaigns both for public safety and to provide the parents and loved ones of missing persons with an avenue for spreading the word about their disappearance. The organization uses a variety of media such as print, television and the internet to help locate missing persons of color.
The Numbers 
Data from the Black and Missing Foundation show that black women mostly disappear from New York, Georgia, North Carolina, Maryland and Florida. In a conversation with The Daily Mail in 2012, the organization listed a number of reasons a the cases of missing black women are largely forgotten:
the lack of diversity in newsrooms results in the African-American community not reflected properly in coverage
missing persons from a lower economic status are mostly associated with some kind of criminal activity
Speaking to ABC, BAM FI co-founder Natalie Wilson said, "When we hear the term "missing persons", most people conjure up images of Chandra Levy, Caylee Anthony or Natalee Holloway. And as a result, the public is misled in believing that victims of abductions and kidnappings are [all] blonde, blue-eyed and female." Wilson also added, "It is time for all people – regardless of race – to be treated equally in their times of greatest need."