Robert Kiyosaki looks unassuming and casual. But his deep knowledge in finance, ingenuity, as well as generosity has actually changed the way the world views money. Take, for example, his best-selling book Rich Dad, Poor Dad. Everyone, including those who supposed to have more financial education, was introduced to a whole new set of thinking through the four quadrants. Moreover, most of the readers have come to realize that in order for them to get out of the rat race, they need to be more than mere employees who depend on their paychecks for sustenance.
The earth-shattering new principles provided by Kiyosaki even led to one of the most captivating, exciting, enlightening board games in the world—way better than Monopoly—called the CashFlow board game
. He has also brought these philosophies across the world through regular conferences and online seminars.
Kiyosaki could have already called it a day; he has done his work. He has made millions of people more fearless and entrepreneurial. But stopping isn't in his blood, it seems. Instead, he opens us to another sensible but controversial idea.
The Essence of A, B, and C Students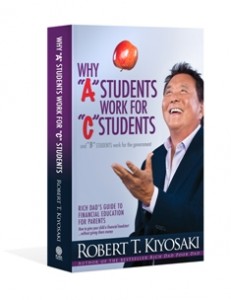 Robert Kiyosaki penned Why "A" Students Work for "C" Students and "B" Students Work for the Government: Rich Dad's Guide to Financial Education for Parents
, the newest Rich Dad's guide to financial education for parents. Though this is quite related to personal finance, it deals more with the present school system and, in effect, to parenting.
Since time immemorial, children are often taught that though education is the key to success, high grades are the ones that seal the deal. In other words, A students have the highest chance to achieve big goals. On the other hand, C students, or those who often fail, may end up with menial jobs that pay incredibly cheap.
Kiyosaki, through his book, shares a different gospel. Interestingly, it's the C students who are bound to get richer and capable of paying for the services of A students. Why? It's because A students are trained to follow instructions and work hard according to a set of rules. The Cs have more freedom to be innovative and creative since these guidelines are unfamiliar to them. Additionally, the existing school system has been designed to produce A students. Though they get degrees and become professionals, they normally remain employees. Going back to Rich Dad, Poor Dad, being one isn't the ticket to wealth and freedom.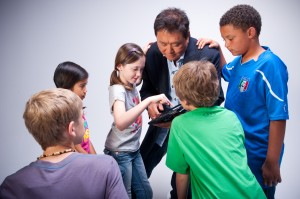 The book also teaches parents: stop the obsession with high grades (or As). Rather, they should allow their children to pursue their own path and discover their passion and talent. Parents should help their kids develop their entrepreneurial spirit and investment ability.
What Critics Are Saying
Though the vast majority at the very least has become more open and accepting to the preaching, some criticized it, believing that only those who are considered As are the ones who get the highest-paid jobs. Nevertheless, supporters often rebut: but it's the Cs who are able to live wealthy and freely.
The Philippe Matthews Show (Recurring) Programming Donation
If you enjoy the content featured on our Blog, Radio and Live Video show, please give a one-time donation or recurring donation to help with further research, production and show topics.
RELATED STORY: