An exclusive interview with The Hardest Working Man in Radio, Tom Joyner
By Philippe Matthews
He's been called the "Fly Jock" and the "Hardest Working Man in Radio" but Tom Joyner is nothing more than a visionary.  A man who saw his potential and didn't give in to the roadblocks of success, Tom knew he was going to succeed and saw his success early.  Many times when you ask someone of great success, 'did you know you were going to succeed so big?' they shyly answer, 'no, I didn't know it was going to be this big.'  But, not Tom, he says, "Yeah, I dreamed it! I dream big! I don't dream like I'm going to make this up and make it in to something, I'm more of a daydreamer.  I have daydreamed about this but I'm not the kind of person that says, 'yeah, I dreamed I can do this and so I woke up and made it happen.'"
Tom says he daydreams about things all the time and the success of the Tom Joyner Morning Show was one of many. Tom is the ultimate breakfast host as star of ABC Radio Network's The Tom Joyner Morning Show. Each weekday from 5:00 AM to 9:00 AM (CT), Joyner invites a nationwide audience into his studio "home" of more than seven million listeners!  His live, syndicated, Urban morning program treats listeners to an on-air team that reports and comments on the latest news and sports of interest to the audience. Also featured are drop-in celebrity guest, on-site remotes and an audience-tested Urban playlist. Weaving it all together are Joyner's upbeat attitude, energy and humorous insights.
Although TJMS has crossed over into the commercial market and has gained a whole new market of white listeners, Tom says, "Our goal and mission is to get African Americans to listen and we're not ashamed of that — it's very purposeful.  We do a show designed for African Americans; our goal is to reach every African American that we can.  Anybody else other than African American that listens to what we do we welcome and appreciate but it is our intention to serve the black people in this country."
The purpose and agenda for the Tom Joyner Morning Show he says is to: "try and get people to make a change in their community and that's what we do." TJMS uses comedy, humor and fun to motivate their listeners into action and information Tom says. "That's how we hook people. We first have to get people to listen and the way we do that is with a lot of humor.  We put the fun factor way up and when we get people laughing then that means they're listening. Then we can try and get them to think about things and react to things – that's the way we roll."
Tom is a four-time Billboard Magazine award winner, who began his radio career immediately after graduating from college. The Tuskegee, Alabama native had just received his Bachelor's Degree in Sociology from Tuskegee Institute, when a friend offered him a news broadcasting job at Montgomery, Alabama's WRMA-AM in 1970. "I didn't have a job and I got a phone call asking me if I wanted to do radio and I had never done it," explains Tom. "They said, 'you can do it – it's easy.'  I said, 'alright' and that's how it started. I stumbled into the business. I was sitting around daydreaming about doing spectacular things but I had no idea that it would be radio."
The dynamic law of attraction says you attract not what you want but what you are so, how you succeed is not necessarily up to you. The most important element to this law is for you to see success and success will find a way to accommodate you. After his debut on Montgomery's airwaves, Joyner worked on-air at WLOK-AM, Memphis; KWK-AM, St Louis; and KKDA-FM, Dallas. His success eventually took him to Chicago, where he entertained Windy City audiences at WJPC-FM, WGCI-FM, WVON-AM and WBMX-FM.
Tom says he was blessed to get into radio during a time when personality radio was just burgeoning.  "Timing is everything," Tom expressed.  "I was blessed to get into the business at a time when black radio was going through a change.  It's a blessing. When I got into the business, personality radio was beginning to make its move out of black radio. Before I got into the business, you had strong personalities in every part of radio, not just mornings. Now, the way it's done is you have a strong personality in the morning and then if it's a black radio station it turns into a music machine after ten o'clock. All music, less talk, playing forty minutes of uninterrupted music. So, I was blessed to come along at the time when radio was beginning to make that change and radio encouraged personalities and what personalities did at that time was be very community oriented."
During the development of personality radio, Tom says it was black radio that became the voice for the community. "The radio stations were always in the streets and beating the drum – they were the drum of the community. People seldom talk about the role of black radio in the civil rights movement. But, let's face it, back in the sixties when Dr. King was forming marches and rallies, how did they get the word to the black people?  It wasn't all word of mouth. Word-of-mouth can't spread like that.  Especially in the south, the daily newspapers were for white people and they weren't telling blacks there was going to be a march on Dexter Avenue on the Capital steps of George Wallace's window.  That didn't happen.  How did people know?  It was black radio.  Dr. King and the rest would get on black radio and say, 'this is why we're doing it and this is where we're going to be and this is what time,' and that's how black people knew what was going on."
The Fly Jock Era
Tom began his career at the end of an era where strong, black personalities carried a radio station.  Tom says, "that's how I was trained in black radio; to do things like we do now.  I'm just doing it with today's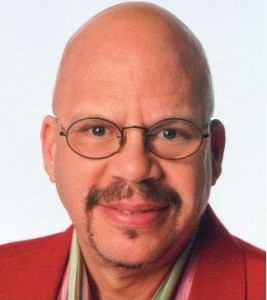 technology, but I'm basically doing the same kind of radio that was done then."  Tom melded the perfect blend of personality and technology together as he made headlines in the mid-eighties when he accepted simultaneous positions of morning drive man at KKDA-FM, Dallas, and afternoon drive talent at WGCI-FM, Chicago. His daily round-trip commute between the two cities earned him national publicity, high ratings and millions of Frequent Fryer miles.
Once again, Tom daydreamed that he wanted to do something big but, wasn't quite sure what it was. They say be careful for what you ask for because you just may get it and boy did Tom get it!  He took two job offers that changed his life and the life of radio, as we know it today.  For eight years, Tom single handedly created the era known to millions of fans as the fly jock era.  "It was turning point for me," Tom admitted.  "That happened in 1985.  To be honest with you, it was all about greed!  I had two offers on the table.  One was to stay in Dallas and an offer to come back to Chicago and they both asked what I wanted.  I said, 'here's what I want.'  Not figuring they would both say yes to the deal that I asked for – they both said yes and I was left with a decision on which one I was going to take.  They offered me the same thing and exactly what I asked for.  One was to continue doing mornings in Dallas and the other one was to do afternoons in Chicago and that's when the light went on.  I said, 'hmmm, how can I do both of these and get two checks!?  There's no such thing as security in this business but this is a good way to hedge your bet.  If one of them fires me, I've got the other one to fall back on. So, I signed both contracts." To accomplish his mission as the Fly Jock, Tom says, "I was very regimented which I had not been before.  I had to do things a certain way, I had to eat right.  I had to exercise right.  I had to stop doing some things and start doing some things.  I was very regimented."
In addition to his collection of Billboard Magazine's "Best Urban Contemporary Air Personality" Awards, Joyner was inducted into the Radio Hall of Fame. He has received Impact Magazine's Joe Loris Award for "Excellence in Broadcasting" and as an added honor, IMPACT's "Best DJ of the Year" Award was renamed "The Tom Joyner" Award because he received it so many times.
The Tom Joyner Foundation
Raised in Tuskegee, Alabama, Tom's mother was a public stenographer and his father was an accountant at the VA hospital in Tuskegee, Alabama.  Being an activist for the African American community Tom says comes from being raised in the middle of the civil rights movement.  The Tom Joyner Foundation is merely an extension of who he is as a person.  "The activism came from being raised in Tuskegee during the civil rights era.  That's what we did, especially on weekends.  'Hey, whatcha doin'?'  'I got to protest.'  'Yea?  You got some sandwiches?'  'I'll be right there.  What are we protesting today?'  You're not going to get somebody out there protesting for long if you're not feeding them!  The activism was second nature.  It's part of how I grew up. The giving back is also part of how I was raised – you're supposed to help anytime and anyway you can.  That's your purpose on earth.  It's part of me."
The Tom Joyner Foundation only does one thing…it helps students continue their education at Black colleges. All too often a student will get into college, then encounter financial difficulties that will force them to drop out. The Foundation provides money directly to the Historical Black Colleges and Universities (HBCUs) for the purpose of helping these students complete their education.
Each month the Tom Joyner Foundation selects a specific HBCU as the benefactor of funds raised during that month. The money is sent directly to the school and the students. Scholarships are awarded through the Financial Aid department at the HBCU based on financial need and academic achievement.
Every cent of each donation made to the Tom Joyner Foundation goes to the students. In addition, the Ronald McDonald House Charities has agreed to provide a fifty-cent match for every dollar up to $333,000 in the year 2000. Other partners such as Coca Cola, Combined Federal Charities (CFC) and several other big companies are also lending a hand in ensuring that the Foundation will be able to help many more. This will help your contribution go even further towards helping the deserving students at the HBCUs across the United States.
The Second Time Around
They say love is always better the second time around.  Tom's first marriage didn't work out primarily because of the sacrifice he had to make being the Fly Jock.  But Tom just got married again July 29th in Jamaica to the Black Fitness Bombshell, Donna Richardson.  Tom humorously talks about their first encounter, "we met over the air.  I interviewed her and she was promoting kids fitness.  I didn't like her at first because she was all about fitness.  How I was doing with my health and fitness and that's all she talked about.  After a while I said, 'all right, this aint' goin' nowhere!  I wouldn't even return her calls for a while but I had ballooned.  I had a program, I had two trainers and a personal chef and all of us were gaining weight – we were just blowin up!  Something was wrong with this program so I asked her to help me and that's how it started.  She volunteered to help but that's all she did though, that's all she talked about – 'how are you doing? Did you walk, run and exercise?  What did you eat today?'  That was the first three months."
But it was a conversation Tom says over the phone with Donna when she began to talk about other things rather than fitness that began to peek Tom's interest in the fitness guru.  "We started talking about something other than fitness and that's when the relationship turned.  She said she was going to be in Italy and I was always fascinated of her stories of world travel and as a kid, I would daydream about how other people lived around the world and Donna has been everywhere. So, she said she was going back to Italy and I said I was thinking about going to Italy, taking a vacation there too.  So, she says, 'why don't you think about coming with me?'  So, I went to Rome."
In the quintessential Tom Joyner humor, Tom says, "I went to Rome and it wasn't working out!  It was nothing happening for like six days.  It was a lot of conversation but…nothing else but a lot of conversation…just general conversation.  It's nice having a buddy and everything but I got buddies in the States.  The first couple of days of conversation were fine but here I am in Rome – the first syllable in Rome is romance and I'm here with a beautiful woman and sitting there just talking… The conversations were lasting until two, three, four o'clock in the morning and then at seven o'clock in the morning, she was ready to get up and go site seeing.  So, on the last day I said, 'well, it's been nice.  I really appreciate this company and I'll talk to you later.  Then we kissed goodbye and it was a long kiss and that was the turning point."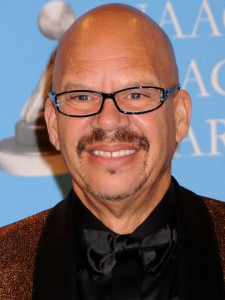 Tom says love and marriage is better the second time around but he carries no luggage or excess baggage from his previous marriage into his new one.  "This is new and I don't bring anything from my past marriage into this.  That was a chapter in my life and now I'm starting a new chapter."  Being the Fly Jock is one of the biggest causes of Tom's first marriage to end Tom admits.  "The toll of Fly Jockin' definitely had a big part."  But, with no regrets and not looking back, Tom's future is so bright he's going to have to wear shades!  He says, "I'm learning new lessons everyday and I'm learning to apply things that I've experienced.  It's becoming easier now to make things happen because I've tried so many things and failed that I've learned from failure how to succeed."
His other honors include the Mickey Leland Humanitarian Award by the Congressional Black Caucus, named "Man of the Year" by 100 Black Men and most recently received the President's Award from the NAACP. Tom resides in Dallas and has two sons, Thomas Jr. and Oscar and his bride, Donna Richardson.
LINKS:
RELATED:
The Philippe Matthews Show (Recurring) Programming Donation
If you enjoy the content featured on our Blog, Radio and Live Video show, please give a one-time donation or recurring donation to help with further research, production and show topics.