"JumpOff Chicago" is a reality TV show that is based on individuals whose life has been a challenging one for them. Showing the life they have come, they use this series to show viewers how they managed to reach the height of success. Aside from this, they would show the life they are currently living and ways on how they would chase one that they dream to have.
Production
"JumpOff Chicago" is produced to be a reality show that is unique from others, with already 6 complete sizzling hot episodes already under its radar. It is nothing like other similar programs in a way that it seems to combine various themes of those aired on different networks, such as VH-1, Bravo, OWN and FOX—Chicago style with a jaw dropping twist.
Concept
The everyday lives of a cast of young men and women would start from the bottom and reaching for the top to gain wealth, success and power and wealth. Viewers can journey along them and enjoy the hard work they have to put in just to reach the top, while remaining true to being ambitious, sassy, out-spoken and authentic Chicagoans. They are chronicled where everything could be a fierce challenge and competition.
There will be lots of quests to follow as these young people attempt to find wholeness, success, healing, true love, happiness, balance and a prosperous life for themselves, while they also look to forge a new life to escape from where they come from, where they are now and where life would likely take them. They are fated to address real life issues in authentic means to "jump off" various aspects of life—family, finances, health, sex, relationships—and will be challenged to fight their way against negative attributes and put their efforts into spirituality and career, doing whatever they can to get to the next level of success. With this show, viewers can certainly see life-changing, adventurous, emotional, exciting, hilarious, intense and (surely) often times dramatic journeys of these Chicago natives.
Another special quality that makes this reality show unique is that it will be influenced by a professional life coach, who will assist the cast in their journeys.
Format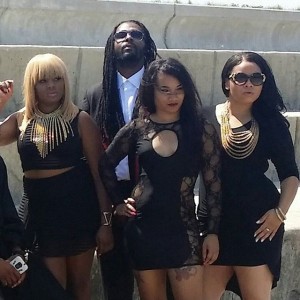 "JumpOff Chicago" takes on a reality show format that is similar to top-rated and popular TV shows, such as "Empire" on FOX, "Tiny & Ti~Family Hustle", "Love and Hip Hop…", "Basketball Wives…" and "Hollywood Exes" on VH1, "Real House Wives…" on Bravo, "Bad Girls Club" on Oxygen, "Jersey Shore" on MTV, "Here Comes Honey Boo Boo" on TLC and "Kardashians" on E!
Cast
This TV show's cast is surrounded by talented individuals, including Dohminique Hodges, Baylen Clark, J-Lyn, Demetrius Meech, Demetrius Bibbs, Ladi Check ah Bag and more. Aside from them, the popular "Ex-Man" of the streets Robert Money Kemp and James Brown, a Chicago native, will also make a special guest appearance throughout the show's season, with the roles of offering up a different comedic vibe, male perspective, lifestyle and uniqueness to the show.
There will also be cameo appearances by other notable Chicagoans who would interact with the cast in a variety of situations, settings and environments, including those at landmarks, commercial establishments and events throughout Chicago.
Great Minds Behind the Scenes
"JumpOff Chicago" is produced by Rich Hands Entertainment—a full-service entertainment company that is composed of creative visionaries, including Jara Everett, Ayo Fawole, Laketha Everett, Simeon Rogers, Jeremy Jones and Roshan Louise Julie. Generally, it is created and produced by Jara and Laketha Everett.
The show is expected to give a breath of fresh air to the reality TV lineup, welcoming viewers to the beautiful "Windy City", which has sponsored so many stars, from those on stage to those in the big screen.
To get a visual glimpse of what "JumpOff Chicago" is about, you can check out this promotional video.
LINKS OF INTEREST:
RELATED LINKS: