Listen Live Now!

By Philippe Matthews
If you are looking for a social metrics tool that will measure your twitter accounts, facebook pages along with your competitors all on one page then the new social analytic startup called TwitSprout is your one and only choice!
I first found out about TwitSprout through Tammy Kahn Fennel; CEO of MarketMeSuite.com.
Tammy knows that I am a social media and metrics junkie and TwitSrout is the second app to MMS that I open when I boot up my laptop in the morning.
I loved it so much that I decided to talk to talk with one of the co-founders of TwitSprout, Dan Holowack to discover how and why they decided to launch such a robust social analytic platorm that leveled the playing feild between the social haves and have nots!
Dan loves data, social media data specifically. He learned from a young age the value of bridging the gap from data & information to insight & intelligence. After graduating with a degree in Systems Design Engineering from the University of Waterloo in Canada, Dan managed business intelligence initiatives across many industries, from high-tech to finance to healthcare, before focusing on social media.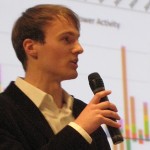 Dan started TwitSprout to help any individual or business track their efforts in social media. The growth of TwitSprout during beta soon required more than his home computer could support. Dan joined forces with Adrian Petrescu (@apetresc) and Abhinav Ajgaonkar (@abh1nv) to help scale TwitSprout for a growing userbase. You can learn more about the team here. Dan spends his time with TwitSprout's users to learn which new features would be powerful additions to the platform. Since launching publicly in January 2012 (last month!) they have seen awesome adoption of the new Facebook Page dashboards by business and agencies. They will be introducing even more functionality in the coming months.
Join with a free account to try out the platform!