Listen to My Exclusive Interview with
Hiran Perera of WalkingSpree..com
Can't See Radio Player, Click Here
Walkingspree is a specialized wellness provider whose expertise is to deliver a superior walking program for health insurers and corporate clients. Through customized online wellness portals and programs, clients receive measurable results and engage participants in a feature rich community. The company's program – based on a USB pedometer to track validated steps, an active social media network, and interactive food and body trackers – typically delivers more than 50 percent employee participation and consistent year-over-year member retention. Results are healthier employees and a positive return on investment for clients. Walkingspree programs have been implemented in major health insurers, insurance brokers, Fortune 500 companies, small to medium businesses and non-profit organizations such as hospitals and schools. Walkingspree also provides a wellness offering for the general public.
Walkingspree is determined to improve the health and well being of all our participants by delivering a fun, economical and effective wellness program. Walkingspree:
Provides measurable outcomes (#1 Ranked Pedometer)
Has built-in fun so employees want to participate
Has motivators for healthy behavior
YOUR program and easy to administer
Is designed for a positive ROI
Delivers health improvements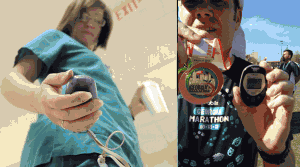 Hiran Perera has led the strategic development of Walkingspree since inception of Walkingspree in early 2006. Hiran brings an impressive background in developing another success story. Hiran joined Rogers Wireless, Canada's largest mobile telephone operator, in its first year of operation and left when its annual revenues exceeded over billion dollars. His last role at Rogers was General Manager of Resale. Prior to that Hiran held senior positions in business development, marketing and finance.
Hiran then joined Shift Networks Inc, a VOIP telecom provider, as Executive Vice President, Chief Financial Officer, and a Director. He successfully led an IPO in its second year of operation.
Immediately prior to Walkingspree, Hiran joined Resverlogix Corp. as the Chief Financial Officer. At that time, Resverlogix Corp. was a four-person private biotechnology firm. Amongst other responsibilities, Hiran was involved in raising financing and managing the public reporting for getting listed on the Toronto Stock Exchange, Canada's major stock exchange. Hiran resigned from Resverlogix (when the valuation of the firm was $200 million) to lead the development of Walkingspree.
Hiran Perera has a Bachelor of Commerce from the University of Calgary and an MBA from the University of Western Ontario. He's also qualified as a Certified Management Accountant. Hiran has averaged 10,000 steps a day since Walkingspree's inception and is an avid jogger. Hiran serves on the Board of Directors for GrowSafe Systems, an advanced technology company delivering automation solutions for the beef industry. Hiran's community involvement includes having served as a Board member on a 100+ employee not-for-profit agency for eight years. Hiran lives in San Antonio, Texas.