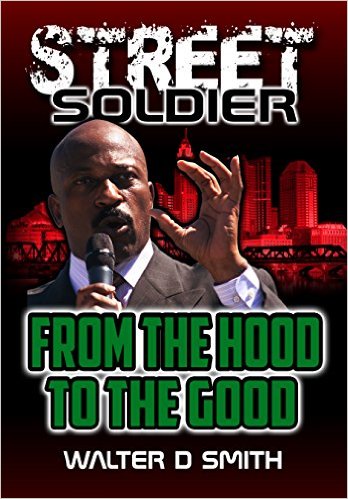 By reading the book "Street Soldier: From the Hood to the Good" by Walter D. Smith, you will be able to experience a journey of a great child who is gifted with loads of talent and opportunity, but has lived through a life of drug addiction, crime and wrongful incarceration to become a veritable "street soldier"!
Who Is Walter D. Smith
Inspiration is the key to motivation—this is Walter D. Smith's principle in sharing his "Against All Odds" winning formula with a wide variety of audiences, including groups, institutions and corporations. As a professional bodybuilder and an inspirational speaker, Smith has spoken before thousands of listeners audiences, touring the US to share his presentations of his life's formula with people at middle and high schools, universities, colleges, groups, businesses, organizations, churches and especially those at correctional institutions.
In July 1985, while he was awaiting trial on some unrelated charges, Smith was identified by 3 women who claimed to have been sexually assaulted several years earlier, where Smith pled guilty to the other charges, but not to the accusations of rape—adamantly denying them. The following year, the jury eventually convicted him of rape of 2 of the 3 victims based upon the testimony of multiple eyewitnesses and handed down a sentence of 78 to 190 years of imprisonment for Smith. However, he continually maintained his innocence, completed a drug rehabilitation program, became a model prisoner and then acquired an associate's degree in business from the Wilmington College.
According to Smith's testimony, he began requesting a DNA test in 1987, and when it was completed in 1996, the results revealed that he could not be the culprit of the rape charges he was accused of. The results were also confirmed by an independent test conducted by the Franklin County prosecutor's office, earning Smith a parole on the 6th of December in 1996. After he was relieved from the conviction, Smith successfully claimed for compensation for the additional 5 years that he served in jail due to the rape accusations.
A winner against all odds and a proven champion, Smith now wants other people to learn how he freed himself from wrongful incarceration with the use of DNA testing and was able to win the first of his 5 professional bodybuilding titles just 5 months after being released from prison. He has been sharing to the world how his determination never to give up on fighting for his innocence of rape and how he provided round-the-clock care for his mother, Mrs. Odessa Fuller Smith, who suffered severely from Alzheimer's disease for 6 years until her death, without placing her in a 24-hour adult health care facility.
One of Smith's most popular presentations is the "Three Degrees of Greatness", which is taken from the perspective of his book "Unseen Providence", where he gives a compelling testimonial of how to turn adversity into prosperity. This recently published book was written about Smith's great grandfathers—former slaves who became two of the most influential and powerful black leaders during the post-slavery era in DeSoto Parish, Louisiana. A historical novel, this book clearly illustrates the same form of perseverance and determination as Smith's unique approach in fighting against all odds and turning misery into victory. It would seem that it is truly in his DNA to be able to dance with defeat and overcome it.
Because of his experience in making bad choices when he was young (particularly between the ages of 12 and 19), Smith is strongly dedicated to empowering the younger generations and helping them learn to appreciate, respect and love themselves with greater vision and purpose for their lives, in an educational, but entertaining, way where he keeps it real by delivering messages that engage and inspire all audiences to recognize their greatness and arm themselves with the tools to win against all odds in life. In fact, this inspirational speaker's heart-felt charismatic delivery has been making an impact on many people from all walks of life.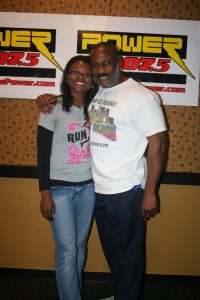 Aside from being an inspirational speaker and professional bodybuilder, Smith is also a community activist, leader and talk show host, who has been given several awards for his outstanding contributions to the community, including those from the National Council of Negro Women, the Columbus Association of Black Journalists, Lifeline of Ohio Organ and Tissue Donation, Phi Beta Sigma Fraternity and Alpha Phi Alpha Fraternity.
Smith's passion about providing encouragement and inspiration to people who are experiencing the difficult situations he faced and overcame in his life is also expressed in his other book entitled "Street Soldier: From the Hood to the Good".
Street Soldier: From the Hood to the Good
From the difficult cells in prison to the pinnacle of redemption, Smith's life is chronicled in this memoir of a book. Here, Smith tells his journey including his experiences of dealing dope, becoming addicted to cocaine, becoming a felon and being wrongfully convicted for rape, all of which landed him in the state penal system to serve a sentence of 84 to 216 years. By reading the book, you will find out how Smith turned his misery into victory and how he inspired children throughout the country to make better personal choices and work tirelessly with personal risks and sacrifices to lessen the occurrence of homicide in his community.
If you are facing the challenge to overcome adversity or if life has taken you down due to a difficult issue, such as unplanned pregnancy, divorce, being dropped out of school, rape, incest, obesity, drug addiction, alcoholism, incarceration, homelessness, bankruptcy, poverty, loss of home, loss of a loved one, being a crime victim, physical or emotional abuse, self-mutilation, suicidal tendency, or rejection from family or friends, then you will truly find this book very helpful in fighting against these odds. You will be able to get inspired by a survivor of adversity.
Smith, being wrongfully incarcerated and sentenced up to 216 years in jail is definitely the best example of how to turn adversity into prosperity.
Get more of Walter D. Smith from the following:
Website
Facebook
bars 2 stars
Street Soldier
Youtube
The Philippe Matthews Show (Recurring) Programming Donation
If you enjoy the content featured on our Blog, Radio and Live Video show, please give a one-time donation or recurring donation to help with further research, production and show topics.