Listen to My Exclusive Interview with
Kevin Johnson on the Entrepreneur Mind

What does it take to be an entrepreneur? Do you really need to have a very unique business idea? Studies and even experts suggest that the concept comes second only to value proposition and aggressive marketing. In other words, your idea can be as similar as the others but still end up on top because you've positioned it very well in the market.
How about capital?
The truth is there's no business when there's no money—you can't avoid not to invest. Nevertheless, today you have plenty of options where to get the funds. You can even borrow the entire startup costs (though it's not advisable). Perhaps talent? Talent can be both innate and acquired, the latter of which means you can teach yourself skills and knowledge.
What is it? The simple answer is your mind-set. A lot of brilliant people are stuck rotten in full-time jobs they despise, small enterprise owners are struggling to keep themselves afloat, and many are scared to take that huge step to financial freedom all because they don't have the "entrepreneur mind."
Who Is Kevin?
For you to understand what the entrepreneur's mind is, you need to get to know more about Kevin Johnson, the man who knows, breathes, and lives it. At an early age, Bostonian Kevin could not have guessed that he's going to build a multimillion-dollar company. In fact, he believed he would not have his own business. Perhaps he thought that his adult years will be spent earning a fixed salary, working for somebody else.
And yet when he was in his second year at Morehouse College in Georgia, poring through books and codes as part of his computer science program (he was a scholar of NASA) and Spanish, he created his own IT company called Johnson Media Incorporated, which developed OmniPublisher, a content management system. The company was later sold to a publishing firm. Around this time as well he earned his first check worth more than a thousand dollars.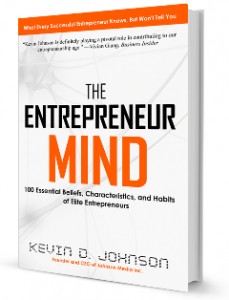 From then on, armed with his elite entrepreneur mind-set, he grew his company and became a serial entrepreneur, creating companies that earn him millions of dollars as well. He also achieved national and international prominence by appearing on shows such as Good Morning America or being quoted in the Wall Street Journal. He has worked with some of the biggest companies in the world like IBM and CNN, developing their own software. He was invited in conferences and programs like New Leaders Council, Urban League, Economic Empowerment Initiative, Morehouse College, and Kennesaw State University.
One of his biggest contributions is The Entrepreneur Mind: 100 Essential Beliefs, Characteristics, and Habits of Elite Entrepreneurs, an ultimate guide for anyone who wants to be in business. It is composed of lessons, strategies, and other noteworthy essential points from his own experience or from those of successful tycoons. The book is incredibly impactful and useful as it has received the nod of approval from business thought leaders and big-time entrepreneurs like himself.
The truth is, it can be easy to be like Kevin or other wealthy business leaders. You just need to begin with the mind.
RELATED STORY:
SOCIAL: