COUNTDOWN TO OUR LIVE SHOW!

The film Yours, Mine and Ours was first released in 1968 and starred Lucille Ball, Henry Fonda and Van Johnson. It was loosely based on the story of Frank and Helen Beardsley who together raised twenty children – eight from her first marriage, ten from Frank's first marriage and two of their own. The film was even re-made in 2005 starring Dennis Quaid and Rene Russo.
Although the film as classified as a family spectacle and injected bits of humor into it, the "real story" is far from the truth. Just ask Tom North, one of the 20 Beardsley children.
Tom's Life Before the Beardsley's
Tom was born Thomas R. North to Helen and Richard North. The marriage of the North lasted eleven years, up to the death of Richard who was killed when the experimental jet aircraft he was flying crashed. The Norths already had seven children by that time, and Helen was pregnant with the eighth.
The Norths were living in Whidbey Island – located northwest of Seattle – at this time. Tom was six years old and his mother just became a widow with a baby on the way.
Meeting the Beardsley's
She moved her family to California where she met another military man, 45-year old Frank Beardsley. He was a personnel officer at the Naval Postgraduate School.
Frank was a widower too and has 10 children of his own. Helen and Frank married on September 9, 1961 and both of them merged their families bringing in a total of 18 children in all. They would add two of their own later.
Real vs Reel
In the 1968 original, Henry Fonda is portrayed as a wise and affectionate father. However, this is far from the person Tom knew as his real-life stepfather. According to Tom, Frank Beardsley was a violent man who abused his children.
And the real-life Beardsley's what Tom detailed in his autobiographical book, True North: The Shocking Truth about Yours, Mine and Ours. It fleshes out all the truths behind the lies portrayed in the film – that his family wasn't one filled with laughs, but one whose children grew up under an abusive man.
True North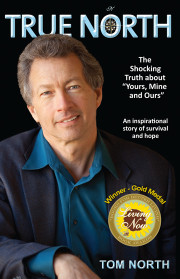 In his book, Tom starts out with life in the 1950s when the Norths lost their father. "Here she was, preparing to deliver another child without her husband present; something she has done before, but this time was very different. Dick North would never came home again."
It goes on to describe how they – the Norths – were adopted and their last names changed to Beardsley. And although the films depicted them as a loving and happy family, the portrayal was further from the truth.
In fact, Lucille Ball had first glimpses of what it was really like living with the Beardsleys. She was researching for her role as Helen Beardsley and came to their home to observe them for a few days. She didn't stay long though and came to Helen and told her, "You keep that man away from me."
Tom felt like he was in prison with no way out. However, he did leave home and went on a journey of self-discovery, as well as that of healing and survival.
Years after he left, he led his family in counseling sessions where they each revealed shocking truths. He came full circle and left the name Beardsley behind to take that of his fathers – North.
True North is a deep look into the truths behind the lies of a family perceived by many as a happy one, but had deep dark secrets buried within. The book shows that with truth, healing and forgiveness is possible.
Tom Today
Tom has become a successful financial advisor, writer, poet and adventurer. He is married to Connie and both of them are parents to two daughters. Tom has written a lot about scuba diving, jade hunting in Big Sur, as well as spiritual topics.
Here's where you can learn more about Tom: