Many years ago, Twana Lawler received a prophesy from the Lord: she would write a book that would heal the nation. Fast forward a couple of years later and along with major trials and tribulations, Twana has released My Life: From Tragedy to Destiny, a true account of her life.
My Life focuses on events in her journey, particularly those that have been a defining moment in her life. The book tackles sensitive issues regarding relationships, family drama and a quest for deliverance. My Life shows readers the harsh realities of what life was like for Twana growing up in a black community.
Divine Intervention 
Around 15 years ago, Twana had surgery. She was in a lot of pain and she wasn't living right – smoking about a pack of cigarettes a day, drinking beer and going to the motorcycle club. Before she went into surgery, she just wasn't in the mood to being around others and spent a lot of time at home.
While in a lot of pain after surgery, Twana asked the Lord to take all her pain away. It was in this moment that God spoke to her and said she will be alright. From that point forward, Twana decided to be a changed person.
Happy Beginnings and Bitter Feelings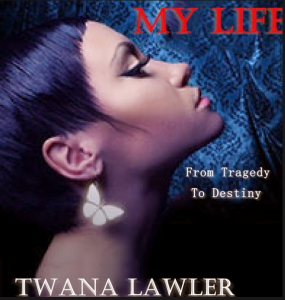 Twana had a pretty happy childhood – that is, until the death of her father when she was 12 years old. Being the eldest – and only girl – among four siblings, her little brothers looked up to her when the man in the house was gone.
The sad part about losing a father AND still having a mother was that the latter had no maternal instincts whatsoever. Twana's mother never cuddled her children nor talked to them. The loss of their father was a painful event in their lives, but they never received the attention they needed from their mother.
Shortly after her father died, the man Twana's mother was seeing moved into the house. This was someone that the children didn't know and it was such a devastating blow having a man move in when the wounds of their father's passing hasn't fully healed.
The even sadder part about all this was that the man received all the attention from her mother – none was paid to them.
It was these experiences that her life started to become so messed up.
A Life Truly Messed 
At 14 years of age, Twana started seeing a guy. Although she wasn't thinking about sex and having a baby, her mother made her take birth control pills. That just didn't seem right to Twana and she believed that asking that from her only strengthened her resolve to have sex and get pregnant. Also, she saw it as a way to get out of her current living situation.
True enough, it did – only, life took a turn for the worse. Twana ended up pregnant, married the man who knocked her up and had another child with him – all in all, she had two daughters with the guy. But the union wasn't a happy one because he beat her up and was too restrictive – as if she was his property.
One day, Twana up and left. She met another abusive guy who gave her a third daughter. Despite the abuse, Twana stayed in the relationship for several years.
Twana ended up with four daughters and no successful union with a man.
Raising Kids Yet Again 
Twana's young life was all about being a mother. However, her third daughter – who she maintains she doesn't have a relationship with – had a couple of children who she ended up taking care of. Those children were in her custody for ten years, but her sacrifices went unappreciated – both by the children and the mother.
When her grandchildren were growing up, Twana showered them with things she wasn't able to give her daughters. By this time, she had money as she was writing. But after all those years, she felt unappreciated.
With ten years of her life gone and which she can never take back, Twana decides to live her life.
Something Terrible Looms and a Silver Lining 
Twana was diagnosed as HIV Positive despite being celibate for ten years. The truth hurt and she was in denial for two years – not taking meds and not going to the doctor. But it was her daughter and God who gave her the strength to face whatever she has.
The Lord told her she would write a book that would heal the nation and that she would marry a pastor. One of her daughters said that if she wouldn't seek treatment, she wouldn't meet this person.
So, Twana changed her stance and went to the doctor. After getting surgery, she had dementia and couldn't remember her daughters, grandchildren or anything about her life. But God still communicated with her and with the help of her daughter too, she recovered. Three months later, she began writing My Life.
Twana has been through a lot in life – early motherhood, bad relationships, major setbacks and more – but how she overcame it all is admirable. And she shares these trials with readers through her book, My Life.