Listen to My Exclusive Interview with
Lornalitz Baez of Curvy Girls!

Indeed, gone are the days when only size 0 women are allowed to walk in runways and appear in spreads. Today the fashion industry is more welcoming and keen on adding full-figured women into the fold. One of the celebrated names so far is Lornalitz Baez.
Started Things Young
Lornalitz Baez is a proud Puerto Rican, though she spent most of her childhood in New York—thus, her prominent Brooklyn accent. Growing up, she had a very normal childhood: she's born in a middle-class family and attended good schools. Most of all, as early as 12 years old, she already had a goal and understood the importance of determination and perseverance; she started modeling.
The Arduous Climb
But anyone who is into or has been modeling clearly knows that it's not going to be a very smooth road ahead, especially if you're a plus-size woman. For some reason, it took a while before fashion designers and magazines started giving her breaks. To top it off, she herself struggled with self-perception. Her insecurities took the better of her, and before she knew it, what could have been a promising career went downward when she struggled from an eating disorder called bulimia.
Fortunately, her strong Latina spirit prevailed, and she fought back with a vengeance. She worked really hard to conquer her demons by printing and selling T-shirts with a very bold message: Curves Are In. She studied and obtained a bachelor's degree in Business Administration Management in the University of Turabo, finishing magna cum laude. She also professionally trained for modeling in Barbizon School of Modeling and, later, for acting in William Esper Studio under the tutelage of Suzanne Esper and in for scene studies in HB Studios with Michael Becket. In between she hustled jobs and looked for good agents who can help her.
The Big Breaks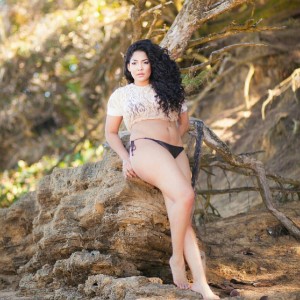 Eventually her persistence paid off. To add to her growing experience in the field, she was chosen as one of the three women for the brand-new clothing line of Jennifer Lopez, besting more than a thousand of equally gorgeous women. She covered for prestigious magazines such as Vibe, Beauty and Health, LuLu in Rome, Urban Latino, Salon Sense, and Ego. In 2003, she was the ultimate calendar girl for Seagram Gin and then subsequently the brand's spokesperson for around 2 years.
She cat-walked for up-and-coming and existing huge brands including but not limited to Pelle Pelle, Lady Enyce, Roca Wear, Playboy, and DaDa. She was even hired for hair shows for Avlon, Clairol, and L'Oreal.
Her natural acting prowess landed her credit roles in top TV programs such as Law & Order, a number of TV commercials, and both commercial and independent films like Consequences and Vegas Vampires. One of her biggest breaks was garnering the seventh spot in Model Latina Vegas.
Curvy Girls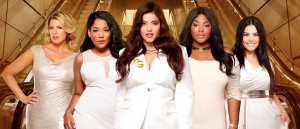 Lornalitz Baez became more than a typical fashion model. She was multi-faceted with a few strings of businesses under her name, an excellent track record in the industry, and a great contract under Heffner Agency. Then Curvy Girls happened, and she soared even higher.
She currently appears alongside Ivory May Kalber, Rosie Mercado, and Denise Bidot for a sensational reality show of NUVOtv called Curvy Girls. It walks the audience into the topsy-turvy world of full-figured modeling, showcasing the ladies' triumphs and challenges as they try to find their rightful place and outshine the others. It was so successful it has been renewed for the second season. It's about to begin in the summer and is about to introduce a new member.
Lornalitz Baez has certainly proved that it's not the body per se that brings success. It's how you see and do with it—and she's definitely figured out both.
RELATED STORIES:
SOCIALIZE WITH LORNA:
THE LORNALITZ GALLERY:
lornalitz baez
Are pre-prints at the end of their life cycle today? Hardly - Inland Press
Are pre-prints at the end of their life cycle today? HardlyInland PressSimilarly, is anyone asking radio to run more commercials? Or, is anyone asking for more junk mail? And if someone misses a TV or radio commercial, or some direct mail piece, does this person then call and ask someone to resend it to them? Of course not.
More at
Are pre-prints at the end of their life cycle today? Hardly - Inland Press