By: Philippe Matthews
If you have opened a fitness magazine in the last last 20 years, you've probably seen a dark-haired, exotic bodybuilding beauty named Sharon Leigh Bruneau.
Proud of her mixed heritage, Sharon is Metis (French-Canadian Indian). "My native heritage is of Cherokee blood," she explains. "Both my parents are Metis and I have two brothers that are twins and older than I am."
Born February 1, 1964 in Timmins, Ontario, Canada, at an early age, Sharon began searching for a positive way to express her unique features. But as with most youth, Sharon had doubts and bouts with her self-image and body image. She says, "When I was six, my family moved to Toronto, Ontario, and later I left home and moved to Vancouver, British Columbia. I have always had athletic tendencies (track, dance, volleyball, gymnastics and tennis). Like every young girl, I had hang-ups about my body and was always conscious of my weight, shape and tone… actually "anal" is a better word. I was very, very, very skinny and always had this hang up with my body." Regardless of her personal hang-ups with her body image, Sharon landed a modeling contract with a top-modeling agency in Toronto. "At the age of 17, I was picked up by a modeling agency in Toronto while watching a model search contest at Toronto's Eaton Center. During that time my bony body was perfect for the fashion industry and landed me a lot of work at a time when 'ethnic models' weren't the flavor. From this, I was finally able to pursue one of my secret passions…acting. Since I was seven I knew this was my ultimate dream." Sharon took dance classes and studied ballet and jazz for more than twelve years.
Still not pleased with her more than thin body image, Sharon wanted to make a positive change in her appearance but didn't know what to do and became extremely frustrated. As you know, frustration without direction is an accident waiting to happen! Her challenge to change came in the form of a severe illness. During her travels as a model, Sharon spent some time in Calgary, Alberta. During one of their brutally cold winters she contracted pneumonia. Sharon lamented, "If you thought I wasn't happy about my physical appearance before, you should have seen me then! The heaviest I had ever been at that time was 120 pounds. At 5'9″ and 100 pounds — I looked like a walking skeleton! I was so unhappy, weak and sickly, I didn't know a thing about health and fitness."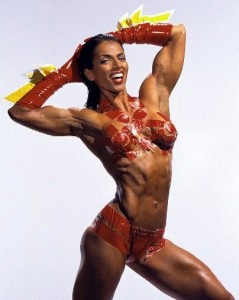 A friend of Sharon's introduced her to a health club and showed her an issue of Muscle & Fitness Magazine. From then on, she was fixated on fitness and bodybuilding! "I began to study nutrition and dove into weights. I was amazed at the transformation my body went through. I had entered a bodybuilding competition on a dare, and continued with three more shows and eventually turned pro at the 1991 North American bodybuilding championships at Redondo Beach, California."
It took about five years for Sharon to put on enough muscle to begin competing in fitness contests. "The first couple of years I just kind of pitted around in the gym. Then, I saw some photos of Rachel McLish (Bodybuilder and Former Ms. Olympia) and I just loved her body. I didn't like the biceps but I loved the length so, I just dove in at that time. It took a lot of heavy training and a lot of eating. I went from three meals a day to six to eight meals a day!"
For more than a decade, Sharon has produced a fan base of millions worldwide. This phenomenal success was directly attributed to her happiness with her newfound self-image and steadily building up her body image. She became the poster child for young, exotic women all over the world wanting to change their body image and increase their self-esteem.  However, one day Sharon got out of bed and didn't recognize herself in the mirror. She began developing a hardened, unnatural look. Her femininity was being eroded with each dumbbell curl and protein shake. "Unfortunately, success was bittersweet," Sharon began explained. "I was thrilled to have been one of the few girls from hundreds, to pick up a contract with Joe Weider and travel around the world. I had reached a level I never thought possible, with my physique and 'fitness' career. I was able to move to Los Angeles and became one of the top female fitness stars and cover models for fitness magazines in the world. But, I had reached a level physically that meant no more modeling or acting. I had become too muscular and again 'anal' about my physique. I knew I wanted to continue pursuing acting and I knew I had to get back into the 'middle' physically."
So, after finishing her contract with Weider Health & Fitness (Publisher of Muscle & Fitness Magazine), Sharon retired from bodybuilding all together and began the disciplined journey of regaining her femininity by losing all of her bulk and muscle mass. "I really didn't like the look of body building, I enjoyed the job but the look wasn't me." There are two incredible factors working here with Sharon's journey. One is physical, telling your body to change something it has gotten accustomed to for more than fifteen years and secondly, training your mind that it's worth it and necessary for you to keep going until you reach your goal.
Most fitness buffs will tell you that when you stop training and working out regularly, it's extremely difficult to stop the eating habits that is required to build the kind of muscle that Sharon maintained during her bodybuilding career. So, how did she do it? "The choice wasn't difficult, I wanted to let go a lot sooner but I was under contract and the money and travel was great but literally I woke one day and looked in the mirror and said, 'Who the hell is that – what did I do!?' It took two years to peel of the muscle. It was harder to lose muscle than one would think. Knowing my body very well through the years of conditioning and training, I knew exactly what I had to do to dial into the physique and the look that I needed in order to pursue my other career of acting and modeling.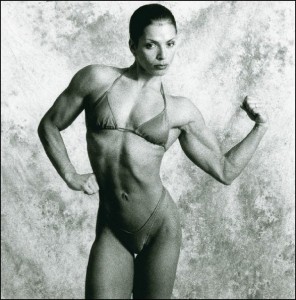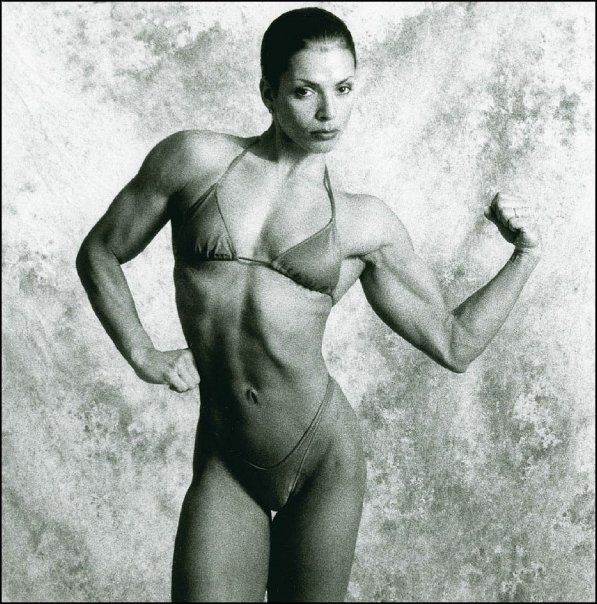 It was two years of really strict dieting so I wouldn't blow up, I ate very lean. After eating eight meals a day, you're used to that and your metabolism is up and racing. But, to me, the starvation was a good thing, it almost sounds sick but I knew what I had to do to get rid of the muscle." Sharon would cycle her calories each week, one week she would  moderate the amount of calories and the next week she would dip below the recommended caloric intake. In order for Sharon to build the muscle she acquired during her bodybuilding years, she had to take in an enormous amount of protein. When she decided to retire from bodybuilding she had to cut her protein intake more than half. "I was taking two grams of protein per pound of bodyweight which is a lot of protein and the more muscle you put on the more protein you need to gain and recover. The first thing was to set myself in a catabolic state (without protein) by lowering my protein consumption to almost nil. I, however, brought up my essential fatty acids with Flaxseed Oil, butter and salad dressings. I didn't care about fat because without the protein you need the fat."
Sharon stopped working out with weights and began a vigorous cardiovascular routine. "I quit the weight training completely and started running again and I went back into my dance. I started doing Pilates and Yoga – anything that would take my heart rate up. I did that twice a day, six days a week and kept the calories very low and cut down to three meals a day as opposed to the eight and survived on fibrous vegetables and fruits and kept the complex carbohydrates (bread, potatoes, pastas, etc.) to a minimum."
Sharon defined what it took physically to make the dramatic change but  mentally, "I've always been a compulsive gal. It's all or nothing. When you want something bad enough, you'll do what you have to do. I just wanted it really bad." Sharon began developing a strong character early in childhood when the kids would call her names because she was not of their race. "It was tough, I had a rough childhood – but I think it gave me the character that I have today. I look back and I really appreciate what I went through. It gave me strength to be the person I am now." Sharon gives great advice to young, ethnic women battling with their personal diversity and self-image. "Accept what you have and know that there are always ways to improve it with nutrition and health and the activity of bodybuilding. I think weight training in general is essential for anybody. You can change the shape of your body by enhancing certain muscle groups to balance yourself out. But, don't be compulsive about it. Enjoy life because one day you're going to look back and say, 'how stupid I was by not to enjoy my teen life. I could have been happy rather than worrying about how I look and reverting to an eating disorder like anorexia, bulimia or overeating. If you find something to focus on like a goal in life, whether it's your career or some kind of activity, and pursue that everything else will fall into place."
Today, Sharon still looks back at her mother and father as her primary role models. "They were uneducated people and they raised the family the best they could. I admire the strength that they had and how they managed to stick together through it all. Whenever I think about quitting I think about what they went through and the fire they put under my butt to keep going." Muhammad Ali was another one of Sharon's influences as a child and still is today. "Since I was a little girl, loved his passion. I remember watching when he was fighting – he would speak his mind and not care what people thought – and I loved that. He spoke so well. I was always so shy as a kid, which is why I didn't pursue a lot of the industry earlier. I admired his openness, his strength and his wiliness to speak out."
Sharon's fitness philosophy has changed a lot over the years but, after discovering her true self, she has a new outlook on life and fitness. "My fitness philosophy is 'Pursue your fitness activities for health benefits'. I see a lot of people go into an activity and become too competitive either with themselves or others around them. Fitness is meant to make you strong, healthy, happy and clear minded. Fitness is essential for everyone."
The most important aspect of Sharon reaching her new fitness and physique goals was focused nutrition. "Nutrition is everything. Anybody can workout, but not everybody wants to. But, not everybody has the discipline to follow a nutritional program – you truly are what you eat. Cliché, but it is true. What you put into your body is what makes you. Be aware of what you put into your body."
Knowing Who She Is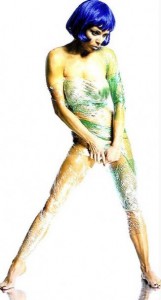 Sharon's says her biggest achievement was finally discovering who she was and liking the person she found and saw in the mirror. "I finally came to realize who I am. This is an achievement because I was a mixed up girl. So much so that I thought I would never be able to deal with a lot of my issues. I'm 47 years old, and I just feel like I finally know who I am. A lot of people never really know who they are or what they are about. I know that I am a teacher. My purpose and mission is to help people with their own issues relating to their bodies. My purpose required that I experienced something that I could truly teach to a worldwide audience and that didn't happen by chance. So, I've got to give back."
Today, Sharon is produces several motivational workshops on Health & Fitness, which have proven to be very lucrative for her. "I'm truly a builder of bodies," she says, "Even when I land something big in the industry, I'll never let go of these workshops because they help too many people."
Now receiving work as an actress again, Sharon's fitness schedule is busy, but balanced. She dances Monday, Wednesday and Friday. On Tuesday and Thursday, she does Pilates and takes the weekend off. Always pushing the envelope, Sharon is marketing herself as the fitness, fashion and fetish queen. She ended jokingly, "I told you, I'm a drama queen when it comes to fashion and just a tad bit sluttish! I've always been a creative nut – I love something different and fetish is big in fashion right now."
RELATED STORY:
Sharon Bruneau