by Philippe Matthews
We've heard it before, but we obviously need to hear it again — America is out of shape.
According to recent health and fitness studies, over 30% of all adults are considered obese — 20% to 40% over their ideal body weight. Overall, physical activity has deteriorated, as well as work-related activity.
The occurrence of obesity especially affects African-Americans, Hispanics, individuals with lower incomes, and the unemployed. Their waistlines have expanded the most because of inactivity. It's estimated that 75% of Americans are considered inactive!
Unfortunately, African-American women have the highest overall rate of obesity (48.6%), followed by Mexican-American women (46.7%), and Caucasian women (32.9%). Ironically, or perhaps in direct response to the expanding waistline problem, the pressure to be fit in America is stronger than ever — especially for women of all races. There is, however, a fine line that can be drawn from just getting into optimal health, and taking diet and exercise to the Olympian level.
From fat to fit and fabulous, Lenda Murray fought her way out of fat through her dedication to bodybuilding, having won the coveted Ms. Olympia title for six years in row, succeeding former Olympian champion Cory Everson. "It takes a lot of discipline and consistency," she says. "Bodybuilding is a lifestyle, something I have to be aware of throughout the day — the food I eat, the training, taking care of my skin — the whole body and look."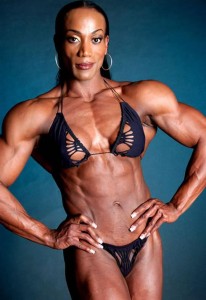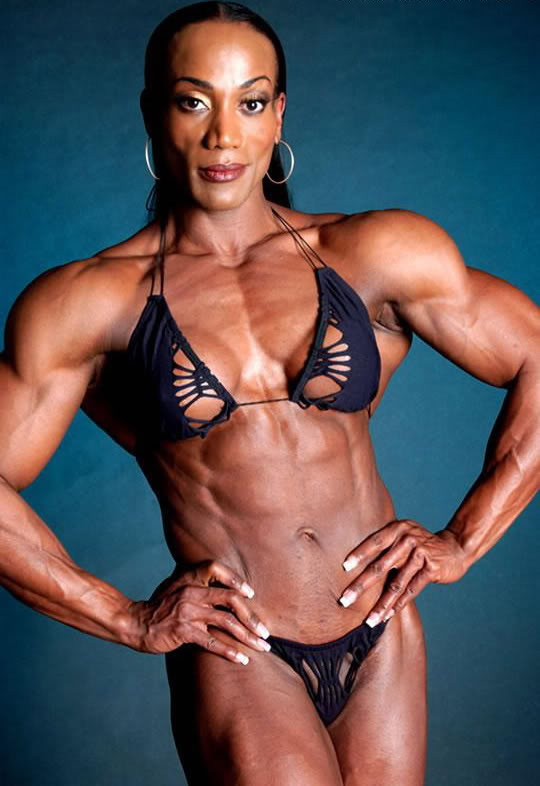 Lenda's Life
The Detroit native's life of fitness began in high school. Lenda held the 100-yard dash record, and participated as a cheerleader during her years at Henry Ford High School. Lenda received a Bachelor of Science from Western Michigan University, where she majored in political science and minored in jazz and choreography. In 1982, she became the second African-American student chosen as Homecoming Queen at the university.
The five-foot, five-inch pundit of pulchritude joined the USFL Michigan Panther Football team's first cheer leading squad, and co-captained the group during the Panther's championship season in 1983. Performing before thousands of people as a Pantherette and participating in numerous personal appearances across the country gave Lenda insight and sensitivity into interacting with the general public — a quality essential for her subsequent bodybuilding wins.
Around 1983, she began struggling with her physique. At the time, her goal was to become a Dallas Cowboys cheerleader. She wasn't at all interested in bodybuilding, until one day she went into a gym to try and lose weight for a cheer leading audition. She met a male bodybuilder who told her she should consider bodybuilding as a profession.
She says, "I had gone to these [cheer leading] tryouts and I made the first cut and the coach told me, ' you have everything it takes to go all the way, you just need to lose a little bit more weight in your thighs."
Lenda says she really struggled trying to lose such specific weight. "I spent a whole year in that gym and after I did lose some weight, I made it all the way to the fourth tryouts for the Dallas Cowboys Cheerleaders and she [the coach] told me I needed to lose a little more! I was struggling, trying to be this image of what society says a woman is suppose to look like. And, I was struggling to fit this stereotype like so many other women."
Healthier Competition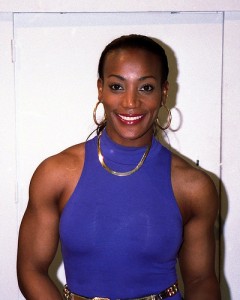 Once Lenda realized that she could not fit into the vision of others, Lenda began cultivating a self-image of her own. It was at this point she made the commitment to bodybuilding, also recognizing she could be a positive influence for women of all physique types.
Lenda says, "Even if you're overweight — let's say that's just part of the family history, I say, you have to really decide what you want to look like." So, the lesson that Lenda says she learned is simply being who she was and not competing with the images of others.
Her biggest struggle was learning the discipline of diet. "Bodybuilding is half diet, and half the weight training–they go hand in hand," Lenda shared. Bodybuilding taught her that old food habits are tough to break. For example, Lenda says she had to learn that a baked potato, "is not bad, but, when you put all of the butter, the sour cream, the cheese and bacon bits on it, then it's no good." The champion then learned that she could still have a baked potato but, "why do you have to have four?"
Bodybuilding is not just a journey into the land of physical fitness; its a sport where you learn more about yourself. Lenda says because of her self-discovery in bodybuilding, "I'm a lot stronger mentally, not just physically."
RELATED STORY:
Lenda Murray